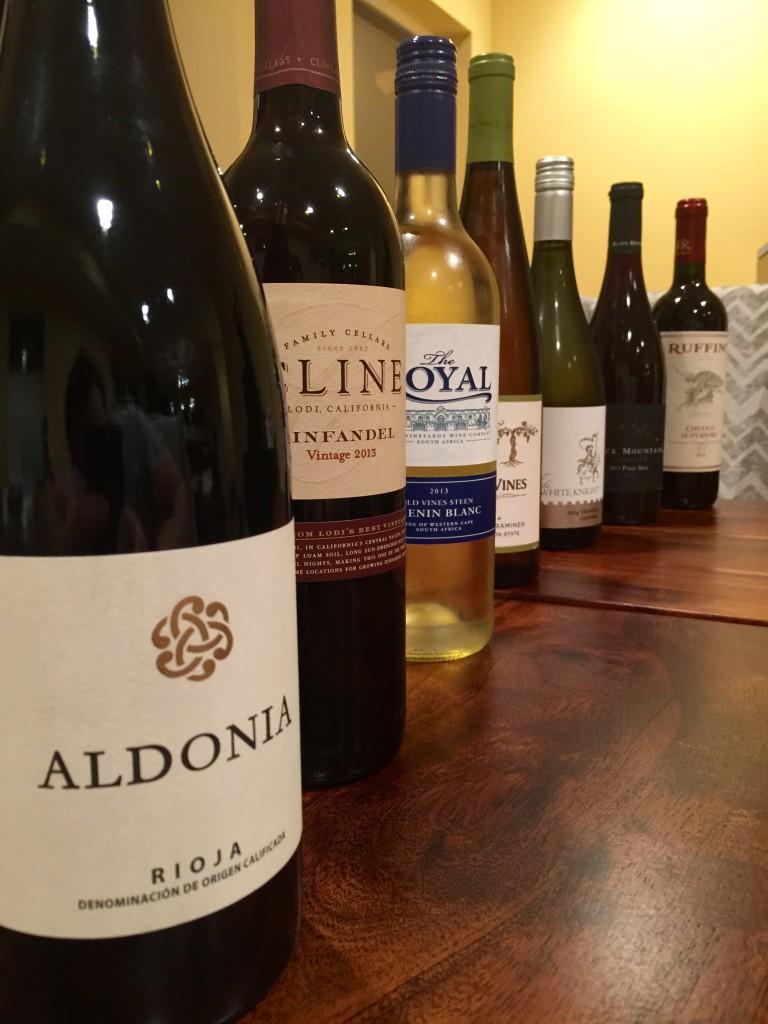 Need some ideas for the best wines for Thanksgiving?  First Pour Wine is here to help with a recap of all the wines we've tried, to help steer you toward the perfect pairing.
What Makes a Good Thanksgiving Wine?
Lower alcohol – Below 14% – Keeps your guests happy, but not too happy…
Approximately medium body – nothing extreme from a light or heavy perspective
Good acidity – This helps keep the wine and the food working together, especially with the diversity of the Thanksgiving table
How many bottles should I buy for my party?
In order to figure out the number of bottles you'll need, use the following formula:
# of Bottle for Holiday Party = (# of guests drinking wine x # hours for the party) ÷ 5
For example, a 5 guest party going for 4 hours would want to have 4 bottles of wine.  If the party had 10 guests, you'd want to buy 8 bottles.
Finally, please remember to get your DD something nice, and drink responsibly!
First Pour Wine's Best Wines For Thanksgiving 2015
Segura Viudas Brut Cava – A stunner of a value at only $10, Segura Viudas Brut Cava is loaded with lemons, unripe apricots, touches of nuts, and hints of yeast.  The body is moderate, with fizzy bubbles adding lift, and a beautiful pop of acidity accompanies the entire experience.  Plus, it pulls double duty, as a great choice for brunch or dinner. Buy now from Wine.com
Two Vines Gewürztraminer 2014 – Gewürztraminer may be one of the best wines for Thanksgiving.  Loaded with acidity, a medium body, subtle sweetness, a lively texture, and flavors of lychee, flowers, and honey, Two Vines Gewürztraminer hits all the right notes at well under $10.
Ruffino Chianti Superiore 2012 – Sure Ruffino Chianti Superiore would be fantastic for pasta, but Chianti is a food friendly wine in general.  With a medium body and plenty of brightness, Ruffino Chianti Superiore is packed with black pepper, black cherries, currants, and hints of toasty oak, all of which will go well with the turkey or the sides.  Fans of larger reds will also not be disappointed in the structure. Buy now from Wine Library
Cline Zinfandel 2013 – Packed with jammy plums, currants, and some delicious vanilla, Cline Zinfandel hits on all the right notes for fans of medium bodied reds. At $10 it's huge value that will work with the vanilla notes in the marshmallows of sweet potato casserole or the earthiness of the turkey and stuffing.  Get a bottle from Wine.com
Georges Duboeuf Beaujolais Nouveau 2015 – It's more or less impossible to leave Beaujolais off this list, and Georges Duboeuf Beaujolais Nouveau is delicious this year.  Packed full of berries, it develops a bit of a complex fruit punch or wild berry flavor, and has a light body with lots of freshness to match.  A fun choice for Thanksgiving itself, or for the leftovers.  Buy now from Wine Library
The White Knight Viognier 2014 – Smooth, musky, and packed with floral notes and hints of spice, The White Knight Viognier is a nice choice for those who like chardonnay.    There's a surprising depth of flavor, and the texture is almost like lanolin like on the palate.  Pick up a bottle from Wine.com
Decent Wines
Mederfil Lambrusco Reggiano – Sweet, red, and sparkling, Mederfil Lambrusco Reggiano is more at home as a pairing for pizza in most people's minds, but it could also work with the bird.  The sweetness matches many of the sides, and the acidity is nice too.   A palate of black cherries, subtle earth, and hints of balsamic help round it out.
The Royal Old Vine Chenin Blanc 2013 – More interesting than a generic Chardonnay, but not quite all the way to good wine sits The Royal Old Vine Chenin Blanc.  A medium bodied white, with loads of acidity, it has an off the chart floral character that lends it well to covering up some of the fruit flavors it contains.  Certainly a nice choice to help fans of chardonnay expand their palates at the party.  Buy now from Wine Library
Kirkland Sonoma County Chardonnay 2013 –  I'd like to say that Kirkland Sonoma County Chardonnay 2013 is a phenomenal value, but as Chardonnay goes, it's a little bit on the boring side.  While there are pops of tropical flavors and touches of creaminess, it does lean into the bitter side of the spectrum.  It does have an added benefit of being a Costco product, if you happen to be a member.
These are not the wines you're looking for…
Aldonia Rioja 2011 – Rioja's in general are going to be a good choice because of their tannins and acidity, but Aldonia Rioja 2011 just doesn't quite get the balance of fruit and earth right.  Loaded with notes of forest floor, barnyard, and cherries, it's a little too intense for most people's Thanksgiving table.  Better examples are available from Mano a Mano Tempranillo 2011 or Kirkland Rioja Reserva 2009
Black Mountain Vineyard Pinot Noir 2013 –  I feel fortunate to say that the number of truly awful bottles of wine I've been subjected to lately has been relatively low.  Black Mountain Vineyard Pinot Noir does not keep that statement ringing true.  Loaded with puckering acidity, the texture gets thrown totally out of balance, and ends up ruining a nice nose and good collection of cherry, currant, and chocolate flavors.  If you need a pinot noir, Mark West, Barefoot, and Lucky Star have all made serviceable examples in the past.  Although we haven't talked about it on First Pour Wine, Clone 5 Pinot Noir is delicious if you're willing to spend the upcharge
(code IGC5P10 was working to get you a discount and free shipping as well).
But wait, there's more!
We have a few more wines coming of the next couple of days, so be sure to check back for the latest and greatest.  Also, if you happen to be traveling with wine for the holidays via airplane, check out wine skins (and how we prove they work!).
Got questions, leave a comment below!  Happy Thanksgiving!