I can't even begin to explain how much I love samples.  I really love samples.  Like, Pee-Wee Herman, why, don't you marry them, love samples.  When I get wine samples, I look like this kid:
Just you know, older, and with wine.
All jokes aside, wine samples really do help me out a lot, and can help key-in my readers to other great products out there.  While I'd like to pick up every bottle of wine in the store, I'm just not financially free to do so, so every sample I get represents another chance to connect with readers, and tell them about the next Nintendo 64 of wine that they haven't tried yet.
First Pour Wine – By The Numbers
So why work with First Pour Wine?  With over 8,000 monthly page views and more than 2,000 social media followers, First Pour Wine loves to help get the word about new wines out there.  Below are some of our statistics from our November 2016 media kit.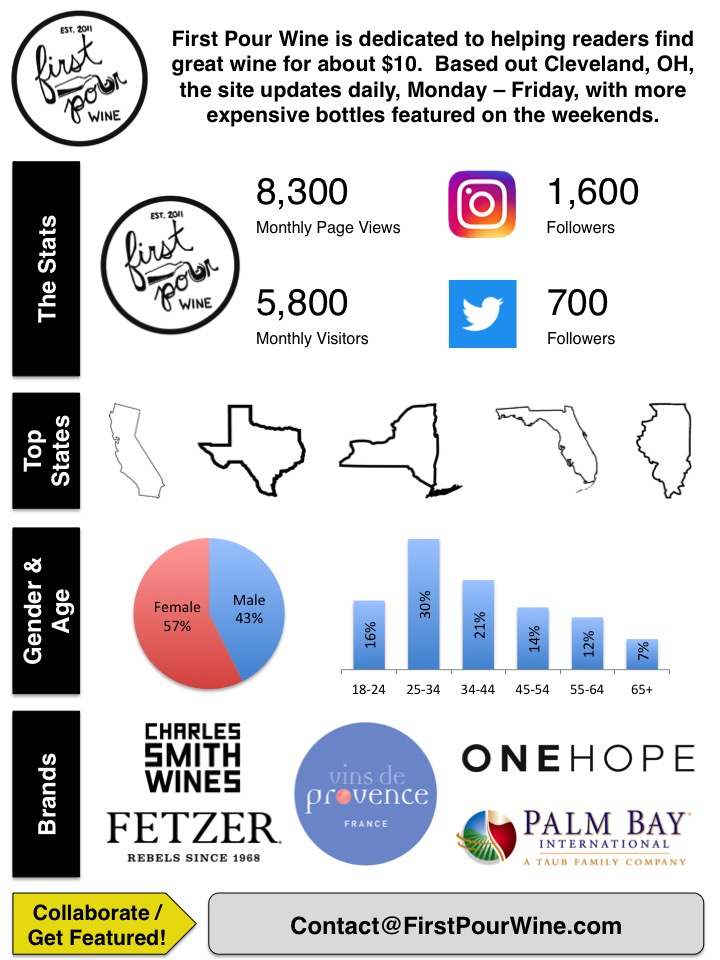 Sample Policy & Details
Still want to get involved?  Send some samples!  Here are some helpful tips & tricks regarding how I handle samples:
First Pour Wine tries to cover wines in the $10 range, so generally speaking up to $20 a bottle is going to be A-ok.
Bottles way above the $25 price point (dear Bollinger, you have no idea how much I'd love a bottle of 007, and a tuxedo… and maybe an Aston) should reach out first, but aren't a flat no.  Especially if I'm covering regions for education purposes!
I do NOT guarantee positive reviews.  I know there are some struggles with this, but I guarantee honest reviews.  This is an integrity issue, and I won't compromise it for my readers.
Information is a huge positive, make sure to include fact sheets if you have them.
I tend to work on a theme or schedule (for example, France or Thanksgiving Wines), so timing is everything.  If you have a specific window you want to hit, let's talk about it first!
Finally, I want this to be a dialogue with you, the wine sender.  So please, let's chat about any questions or thoughts you have via the email address Contact@FirstPourWine.com
Contact Info
Still interested in working with First Pour Wine?  Get in contact with me at Contact@FirstPourWine.com or send wine to:
Nick Rinaldi
First Pour Wine, LLC
34194 Aurora Rd Suite 126
Solon, OH 44139
If you have questions about our sample policy, or want to discuss anything listed above, please feel free to contact me!
Cheers!
Nick
First Pour Wine