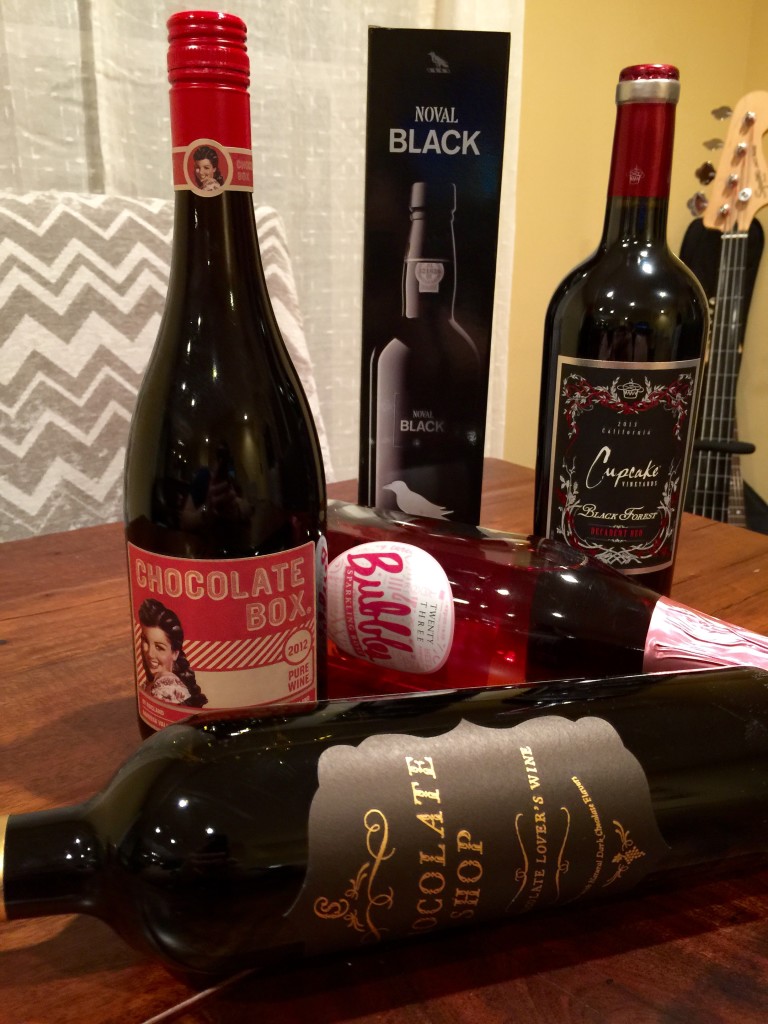 Valentine's Day is next weekend, so here's First Pour Wine's list of the Best Wines for Valentine's Day 2016!  This list is mostly red, but if you're looking for a list of whites to try, check out our complete listing of white wines or our wine list for more choices!  Also, for the first time, our ratings are next to the wine name, a detailed overview of the ratings can be found here!
First Pour Wine's Best Wines for Valentine's Day 2016
Quinta do Noval Black Porto (88) – For dessert or a cheese course, Quinta do Noval Black Porto is a delicious, young porto, sweet, loaded with jammy blackberries, licorice, raspberry, and spice.  The price point isn't bad either!  Available at Wine.Com
Tarima Monastrell 2013 (87) – Smooth and silky, Tarima Monastrell flows from boysenberry to oak, from mocha to blackberry, and all points in between.  At under $10, Tarima Monastrell hits a home run of texture and deep dark fruit flavors.  The 2014 is Available at Wine.Com
Cupcake Black Forest 2013 (71) – Like the name implies, this is another wine looking to emphasize it's dark chops.  While this sounds good, it doesn't quite make the case, giving off an impression of a medium bodied lively wine with lots of blackberry, cherries, and hints of herbs.  Good, but not as advertised.
Ménage à Trois Midnight 2013 (NR) – Yes, it has a dirty name, but once you get past that, you find a smooth wine, with a good amount of body, blackberry, plum, spice, and herbal notes for a decent price.
The Velvet Devil Merlot 2013 (NR) – Slightly green, but if you give it the time to open up, you'll be rewarded with fresh, if slightly underripe, blackberries and plums.  There is a nice smoothness, and touches of smoke.  Available at Wine.Com
Beau Pere Cellars Chardonnay 2014 (69)* – Creamy and round, almost to a flabby point, Beau Pere Cellars Chardonnay comes with plenty of starfruit, pineapple, and minerality.   While flavors are clean, it loses some of it's character thanks to the flabbiness losing surface tension. Available at Wine Library
Rusina Cabernet Sauvignon 2010 (67) – There's a sort of sweet-sourness to the ripeness of the fruit and tobacco balance going on here.  The end result is a fleshy cabernet, that is inconsistent, with some good highlights, and some slightly odd lowlights. Available at Wine Library
Chocolate Box 2012 (63) – Sure, it comes with what looks like Judy Garland on the front, but Chocolate Box isn't  sweet.  Slightly under ripe, with notes of chocolate, black tea, and berries, it comes off somewhat on the bitter end of the spectrum, and doesn't quite recover.
Jam Jar Sweet Shiraz 2015 (60) – Despite the attractive label, Jam Jar Sweet Shiraz is somewhat green, pulling in herbal and stemmy flavors with a mix of currants and raspberries.  A solid pass.  Available at Wine.Com
Chocolate Shop (59) – In all good consciousness, I can't recommend this, but if you have to a wine that's mostly like a tootsie roll (or perhaps a tootsie pop thanks to the fruit), then this wine is definitely for you. Available at Wine.Com
Twenty Three Bubbles Sparkling Rosé  (50) – Underripe strawberries, herbal, with touches of minerality, and not particularly  sweet, Twenty Three Bubbles Sparkling Rosé fires on all the wrong cylinders.
* – For a white recommendation, Valley of the Moon Chardonnay 2012 is killer.  Available at Wine.Com
Splurging on your sweetie?
Chappellet Mountain Cuvée 2013 (93) –  Full bodied, Chappellet is silken, yet uplifted by it's bright acidity, and is loaded with fresh red plums, jammy blackberries, blueberries, and mocha.   Subtle spices and herbal notes like black tea add a complexity, and fine tannins keep it graceful.