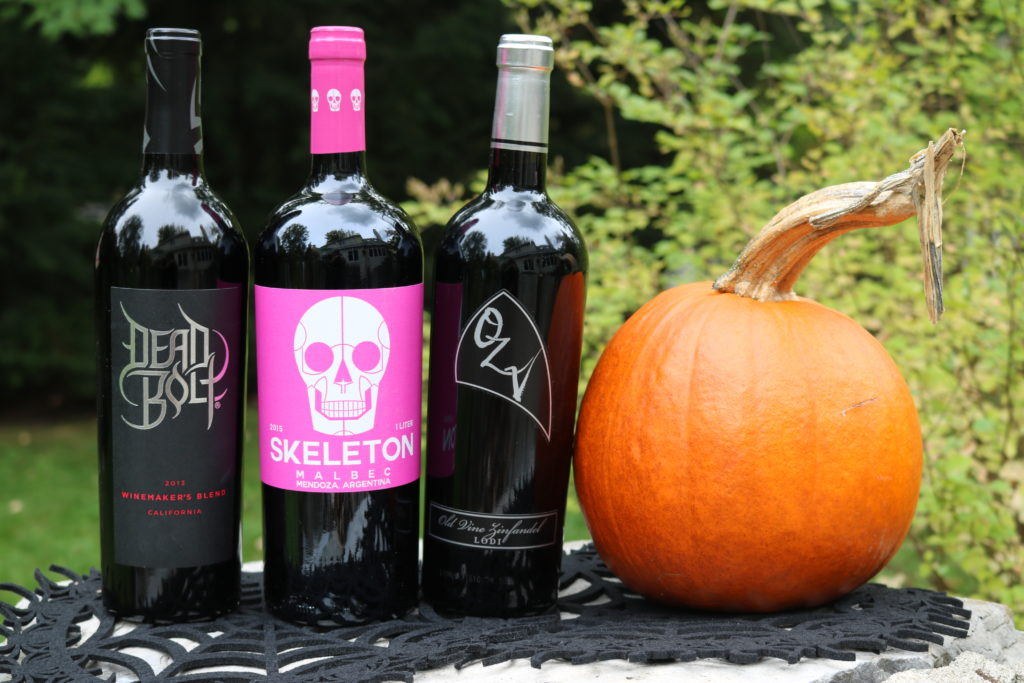 Halloween is here again, which means there's plenty of spooky bottles on the shelves.  Below are our recommendations for the best wines for halloween 2016, that we've sampled this holiday season:
First Pour Wine's Best Wines for Halloween 2016 (90+ out of 100)
Abbe Rous Baillaury Banyuls 5 Ans d'Age (90) – Bright, lively, and light, it leads with a moderate sweetness lacing chocolate and espresso together with plenty of jammy blackberries, prunes, and raspberries.  Notes of currant and blueberry join with a touch of spice for a delightful experience.
Dow's Late Bottled Vintage Porto 2011 (90) – A deeply jammy nose hides beautiful blackberries and prunes, layered with crushed violets and spice.  The palate is sweet, lushly textured, and subtly bright, loaded with blackberry jam, cloves, cinnamon, and hints of cigar and violet.  A hint of creamy milk chocolate and ripe blackberries at the end push it to the next level.
Exceptional Wines (80+)
OZV: Old Zin Vines 2013 (89) – A slight sweetness runs through a well structured palate.  Flavors of vanilla smoke, jammy raspberries, and hints of coffee, chai, and bittersweet chocolate compliment.  A well constructed finish make for a great wine.
Sulin Casorzo 2014 (89) –  Simple, yet elegant, this wine is slightly fizzy and sweet with lots of bright strawberries and roses.  Touches of crushed violets and cherry candies make it pop.
Graham's 10 Year Tawny Porto (88) – Flowing like silk across the palate,  it elegantly conveys nuttiness drenched in butterscotch and caramel.  Hints of dates and red fruits add to the experience.
Nein Lives Riesling 2015 (88) – If you have trouble with cats in impending doom, this is not your wine.  If you like slightly sweet and crisp pears with touches of lemon, honey, and golden apples, then this one's for you.
Once Upon A Vine The Big Bad Red Blend (88) – A moderate bodied red, with a smooth texture.  It comes loaded with blackberries and plums, complimented by hints of spice, leather, smoke, and coffee grounds.  A finish on a milk chocolate note makes it enticing.
Quaffable (70+)
Ravenswood Vintner's Blend Chardonnay 2014 (79) – Imbalanced towards oak, there's still some good peach and oak hiding here.  The oak notes are pleasant, with good vanilla, butter, and smoke.
The Wolftrap Rosé (78) – Heavily skewed into the orange and watermelon side of the rosé spectrum, it has hints of rose, strawberries, and a touch of currant.  The floral elements add bitterness on the palate.
Cockburns Special Reserve Porto (77) – A firm, fleshy texture and good flavors of prune, jammy blueberry, spice, and cedar are slightly overwhelmed by the heat from the alcohol.  A bourbon soaked cherry like nature pervades with a hint of smoke.
Dead Bolt Winemaker's Blend (71) – Deadbolts should be for safety, but this one falls a little short.  Slight hot and very green, it has good notes of plum, blackberry, and smoke.
Just Drink Something Else… (Poison, 60 or less)
Skeleton Malbec 2015 (63) – A liter of Malbec for less than $10 sounds to good to be true, because, well, it is.  Green, hot, tart, and tannic, the wine feels underripe, and just isn't refined or enjoyable.
Dear God Wine… (Wine Products, Not Rated)
Chocolate Lab – New York is making some killer stuff, I just happen to think it's not chocolate wine.  If you like Tootsie Rolls in a bottle (laced with alcohol), give this a shot.
Les Trois Emme Stingy Jack's Pumpkin Wine – I love being basic when it comes to pumpkin spice, but this is just a little too far.  Overripe baked peaches loaded with cloves and allspice partner with a slightly bitter yam flavor to make one of the oddest sweet wines I've had.  The legend on the bottle is great, the wine, maybe not so much.
Got a favorite that's not on the list?  Let us know in the comments!   Want more?  Stay tuned as the list grows the closer we get to the holiday!