As is customary this time of year, the first wine that lands is Beaujolais.  Made from the Gamay grape, it has a refreshing and aromatic style when well made. Flavors of violets, spices, and a barrage of red and black fruits, like cherries, raspberries, strawberries, and plums can all be exhibited from Gamay. Three classifications of Beaujolais exist going from basic to Villages to Grand Cru. In the truly budget style of First Pour Wine, George Deboeuf Beaujolais Nouveau is in the basic category, coming in just over $10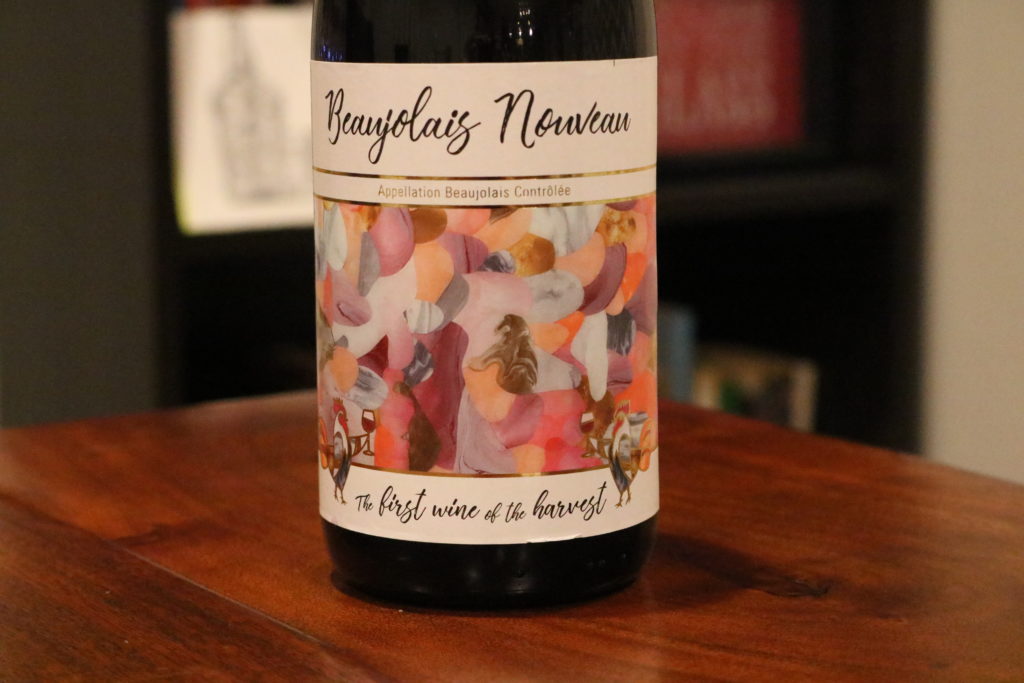 While Beaujolais has a number of nice characteristics and makes a great compliment to a picnic, I find it to mostly be a market stunt. The vast majority of the wine world loses their collective shit over it for the 3rd week in November, and then you hear nothing about it for the next 364 days. If it's your jam, that's awesome, but for me, I find it somewhat boring compared to some of the larger reds on the market.
Enough about my feelings, let's see how it tastes.
Sight:  A magenta set of edges with a black cherry center.
Smell:  Arrestingly acidic from the nose, with a strong hit of balsamic, black cherry, spice plums, and macerated strawberries.
Sip:  The flavor isn't as bright as the nose implies but still has plenty of acidity. Flavor-wise it brings plenty of underripe black cherries, hints of balsamic, and a lot of unripe berries.
Savor:  There's a subtle tannic nature to it, and it finishes with plum skins.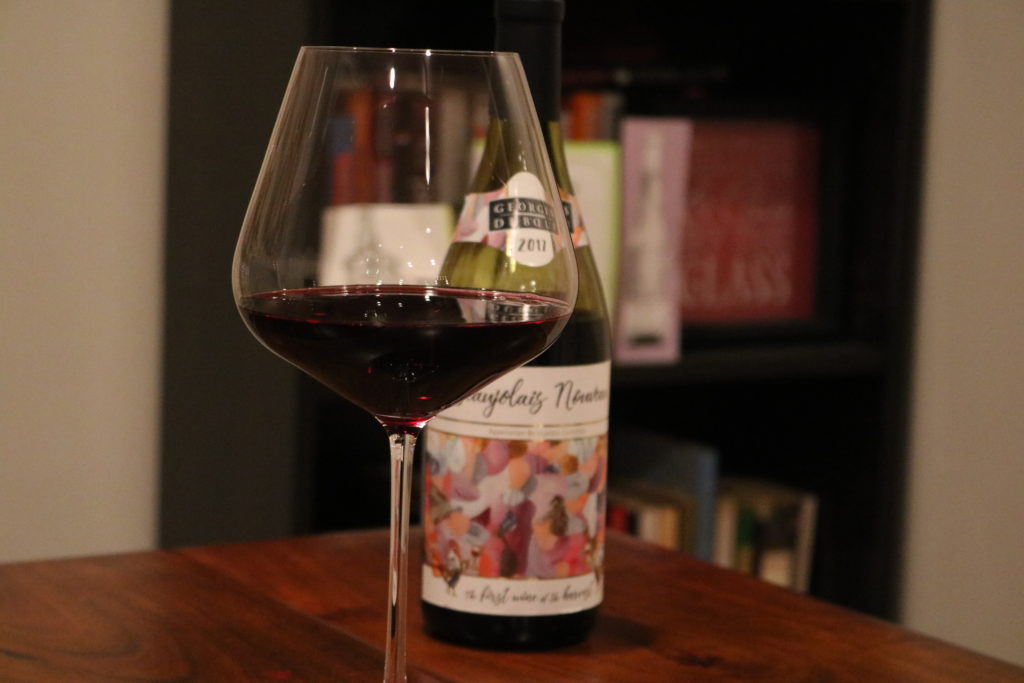 Overall, if anything, I think I like it even less than I have in years past. From a scoring standpoint, it comes in at 74, being mostly average, but losing points on value at almost $12 this year (compared with $8 in years past). Objectively speaking, it doesn't clear my bar for good Beaujolais, which last year went to Terres Dorees at the same $11 price point and scored a 94.
So there you have it about George Debouef Beaujolais Nouveau for 2017.   I'll talk about it again in approximately 11 months. While that's a long way off, Christmas is only 14 days away. With that in mind, I'd like to call your attention to my favorite part of this year's, and most year's, George Deboeuf Beaujolais Nouveau, the label.
As you can see, two cute little shiny chickens are raising their glass in a toast. I'd like to raise a glass as well to toast our first sale of this holiday season! Many thanks and well wishes to you this holiday season down in Covington, KY!  Enjoy your wine charms!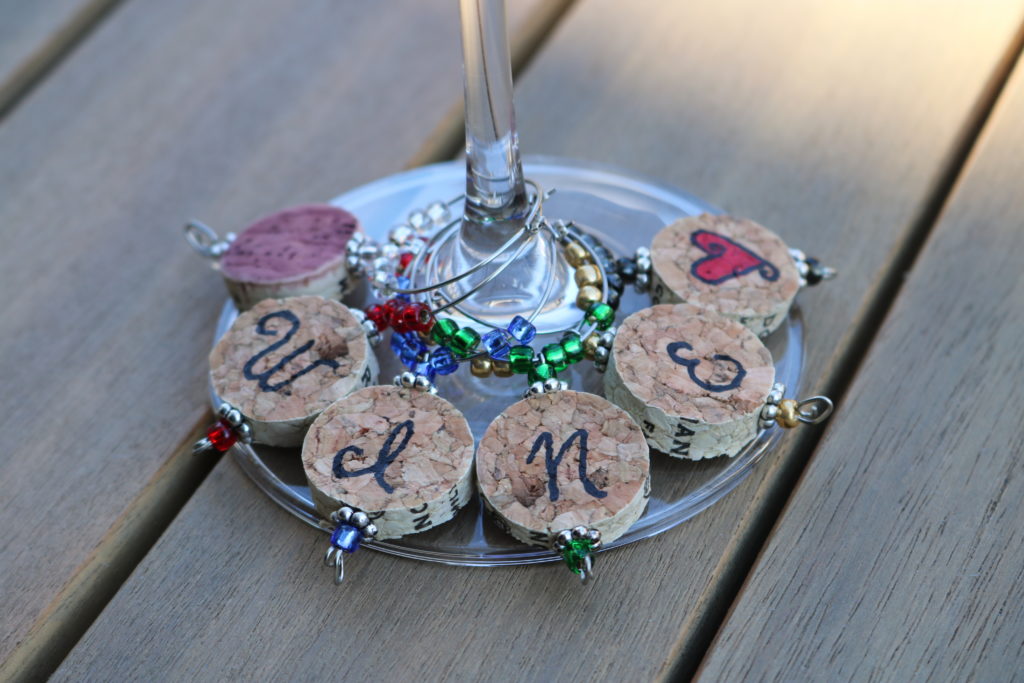 If you're still looking this holiday season, you still have a few days left to order a set of our handmade wine charms to help guests keep their hands off your glass; waterproof coasters made from beer, wine, and liquor labels so Santa doesn't leave a water ring on your coffee table, or our room accenting canvas art to help bring in the new year. They make great gifts for beer or wine lovers, an affordable and unique item for a white elephant gift, or just for accenting your own home with a little something, something to impress your guests at your Christmas party.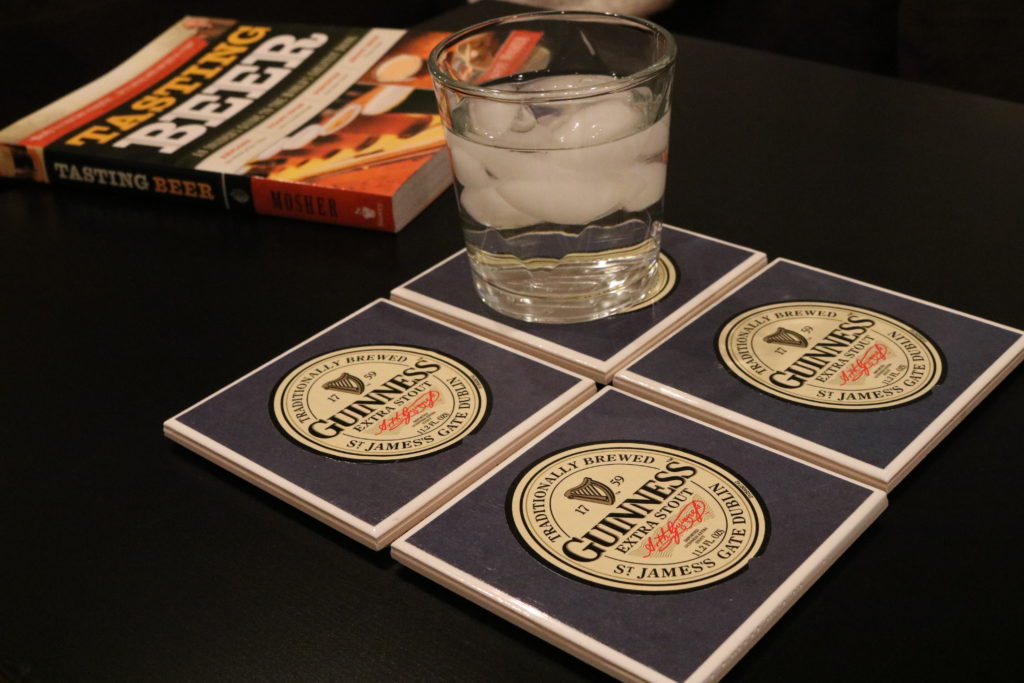 If you want to learn more, head over to our Etsy at www.etsy.com/shop/firstpourwine or our sub-brand Toasts and Towers at www.toastsandtowers.com
Get a 10% discount on Etsy by clicking this link.  Order by Thursday to avoid the rush!
Verdict: Balsamic, Black Cherry, Spice, Plums
Rating: 74
Price: $12
Beaujolais, France
Available At: