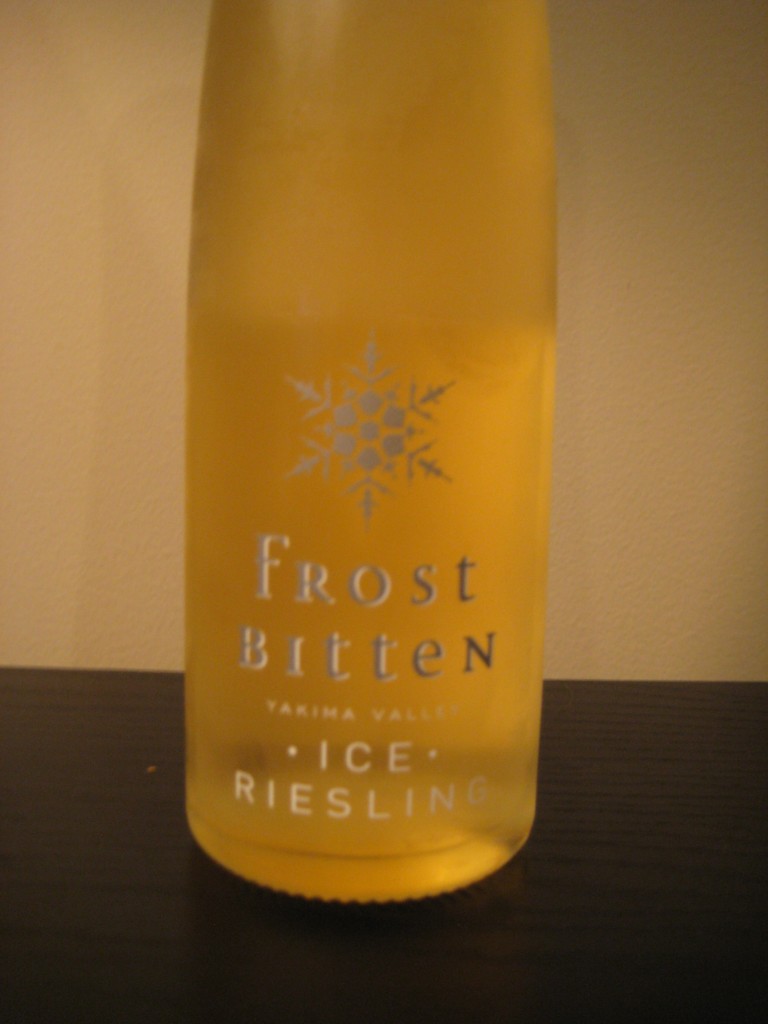 Ice Wine is an extremely sweet style of wine, that is prevented from being cloying by the high volume of acidity.  The traditional method of making ice wine is to wait for the weather to turn cold enough for a hard freeze so that grapes freeze on the vine.  Once this occurs, they are quickly picked and pressed. The result is that the sugar and non-water (think grapey bits), are pressed free of the fruit in concentrated form.  The wine then has to be fermented on the crushed grape and sugar mixture, which results in slower than usual fermentation.
There is also the possibility of freezing the grapes after they have been picked to make ice wine (a process known as cryoextraction).  While this produces a similar style, it is controversial and illegal to label wines produced in such as fashion as ice wines in some countries.  Frost Bitten Ice Riesling is therefore not legally an ice wine, but rather a dessert wine made via freezing.   With all these rules and regulations, it's probably time for a drink, so how is Frost Bitten Ice Riesling?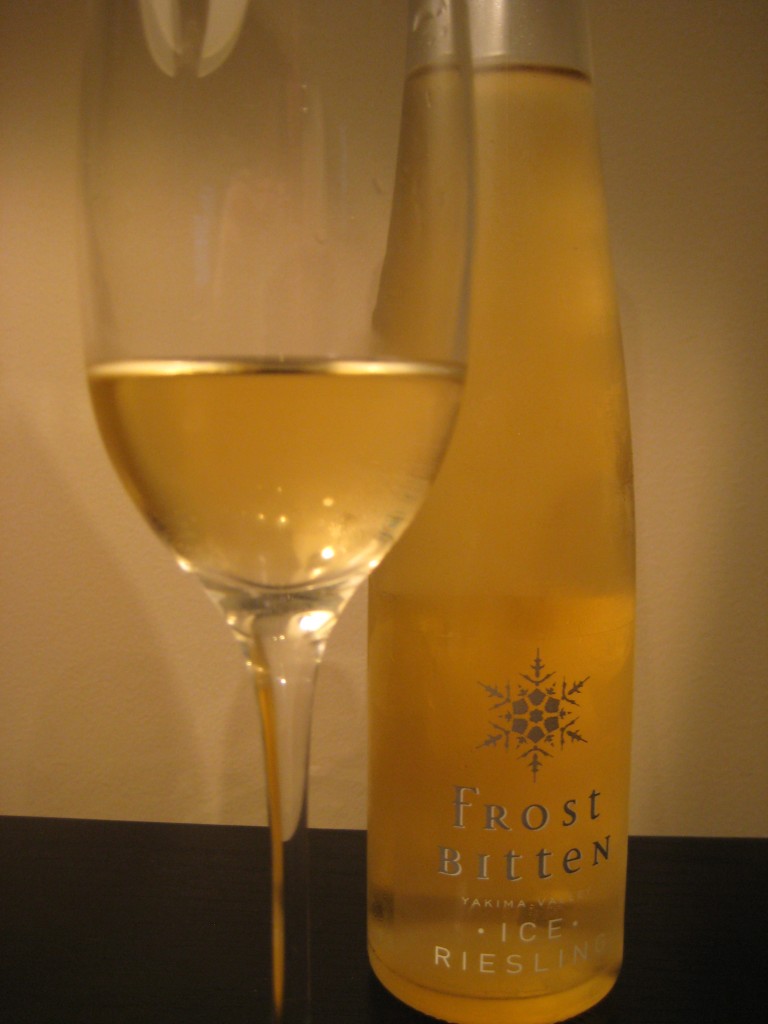 Sight:  Golden, but on the lighter side.
Smell:  So, think about the last time you had white grape juice.  Whatever that memory is, that's the core smell here.  There's also the smell of freshly frozen ice, wet stones, peaches, a touch of rubber, and a bit of lemon.
Sip:  So, there's one thing that's ice wine, and that's the sweetness.  It's through the roof as always, but at least there's some strong acidity to balance it out.  The nice part about it is that it's also packed with strong grape, peach, and lemon flavors with notes of wet stone.  Extremely thick mouth feel.  [A.B.V.  10.5%]
Savor:  There's a bit of a cloying nature to this wine, but it's not overly so.  There's a bit of tongue coating feeling.  Its got a nice lemony ending.
Overall, Frost Bitten Ice Riesling a rather enjoyable introduction to the ice wine style, even if it's not particularly complicated for one.  It has plenty of enjoyable stone fruit and concentrated grape flavors, with all the sugar one would expect, but none of the guilt associated with opening it.   It's the sort of thing one might be able to break out after dinner, and have very impressed wine friends who just don't know what a deal it is.  Alternatively, the consensus might just be, 'oh, that's so delicious!'
Verdict:  A spoonful of sugar
Price: $11.99 / 375 ml
Sugar [Harvest]: 23.4%
Sugar [Bottling]: 17.0%
Yakima Valley,  Richland, Washington