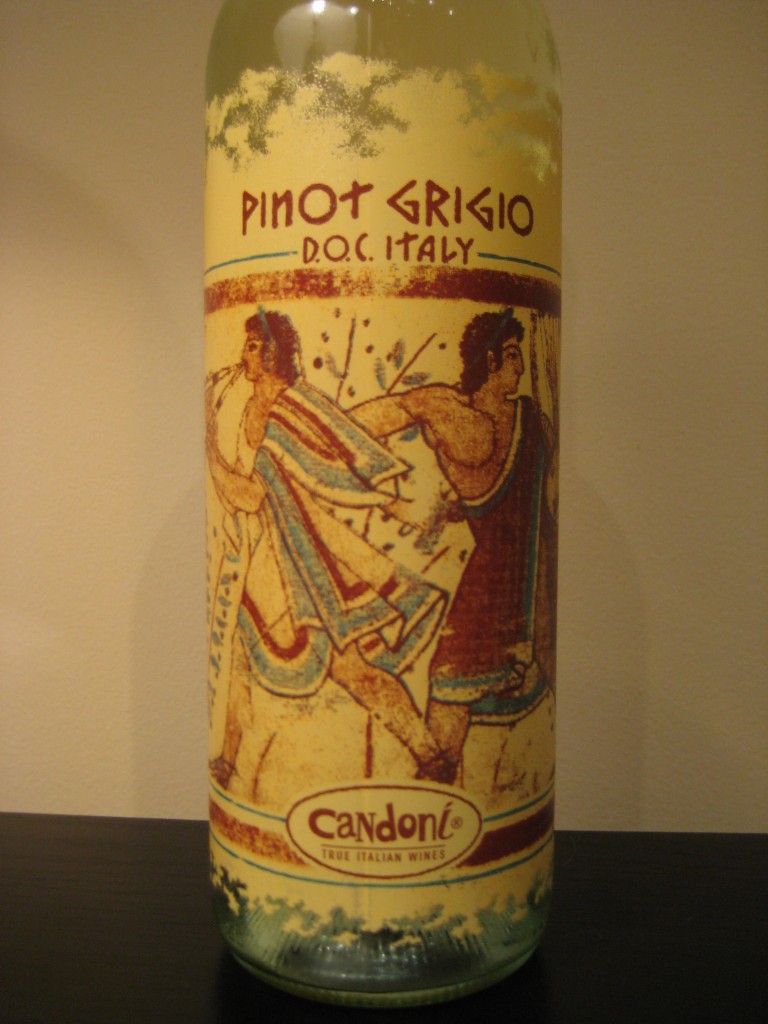 In the past, there have been I.G.T. (Indicazione Geografica Tipica) wines from Italy on First Pour Wine.  I.G.T. refers to the legal requirements that a wine must meet to be certified by the Italian government as being typical of that region, and the Italians wasted no effort in assigning more than 120 of them.  This means next to nothing in terms of the wine being any good.  Typically, that's reserved for D.O.C.G. (Denominazione di Origine Controllata e Garantita).  This means the wine is typically of that area, and guaranteed to be typical of the area's wine production through a variety of tests by the Italian government, and restrictions far more stringent than than I.G.T.
While 2010 Candoni Pinot Grigio is a D.O.C. (Denominazione di Origine Controllata), which is directly between I.G.T. and D.O.C.G., it still goes through a rigorous verification process.  While this doesn't guarantee quality, this is from the Fruili region, which can  produce phenomenal Pinot Grigios.  So can 2010 Candoni Pinot Grigio earn it's status, or is it just resting on it's laurels?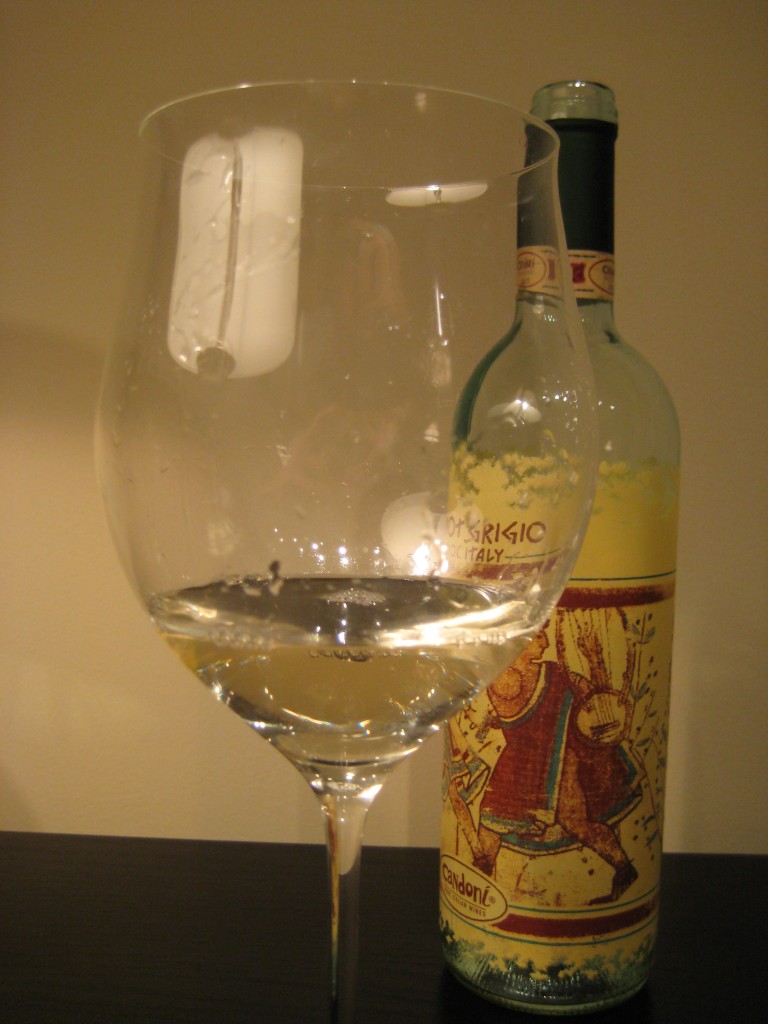 Sight:  Light, very light, barely gold, with a hint of green.
Smell:  Extremely subtle, and distinctly old world in style.  Salt spray, wet stone, lime, clover, and fresh rain.
Sip:  Lemon, rain water, tap water, minerality, wet stone, bottled water.  There's a hit of lime too.  There just isn't really a lot going on here.  Mouth feel is extremely light, but also a touch creamy, acid runs high, and the subtlety is clear off the chart. [A.B.V. 12%]
Savor:  Lemon pith blows up on the end, with plenty of sea salt.  The sensation lasts a rather long amount of time.
Overall, 2010 Candoni Pinot Grigio is nearly subtle to a fault.  That being said, as a pairing for white fish, this wine might be mind blowing, and the same goes for pastas with oil based sauces.   A bit of olive might also bring some fun flavors to the forefront.  All that considered, it's rather expensive for what it is.  Worth a try for old world Pinot Grigio fans, most others need not apply.
Verdict:  There's no nutrition in water.
Price: $9.99
Friuli, Italy D.O.C.
http://www.candoniwines.com/candoniwines.html