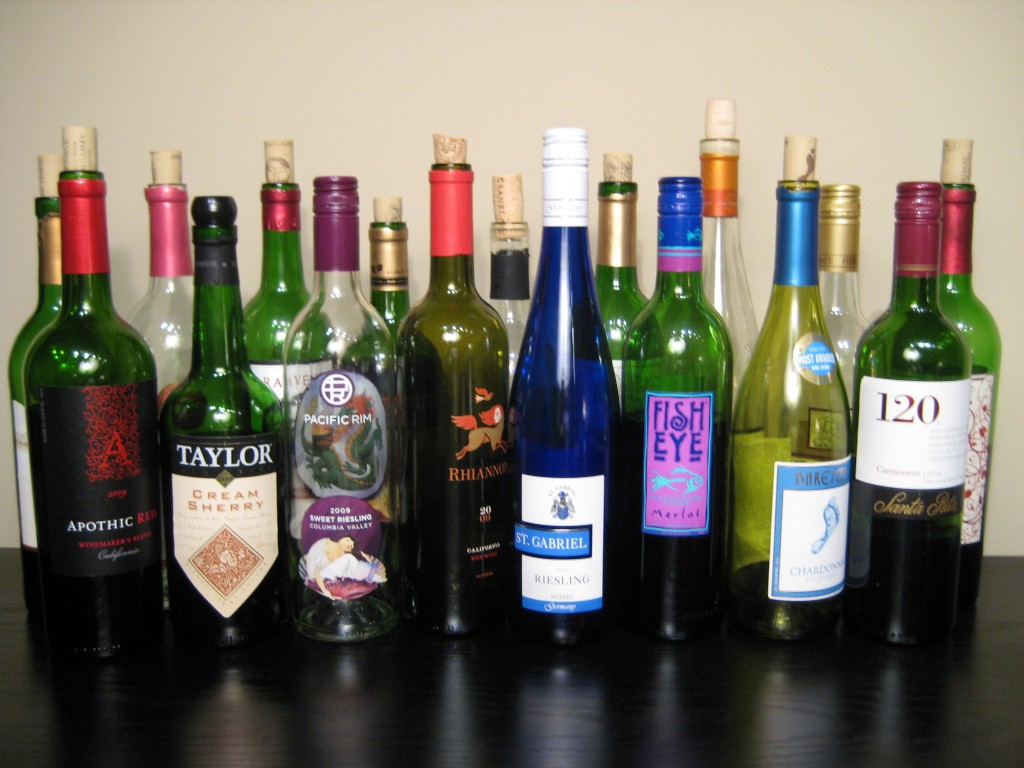 Any missing bottles have been stolen by a Jabberwocky… yeah… a Jabberwocky, that's it…
Lets take a brief moment to wrap up the best of the best for the month of September.
Honorable Mention:  Barefoot Moscato – Barefoot Moscato is a lovely uncomplicated, sweet, lightly fizzy white, with plenty of bright bursting citrus and stonefruit flavors for a great price.  Easy to uncork and enjoy.
5. 2009 Hob Nob Chardonnay – For lovers of a Chardonnay with a strong oak influence, few are going to do better than Hob Nob.  While it's price point is slightly high, it's slant toward a creamy mouthfeel, and a flavor profile of lemon surrounded by oak, vanilla, caramel, and smoke, make this a stand out wine under $10.
4. Barefoot Chardonnay – Those folks at Barefoot really like to get their name in the press. This Chardonnay is a blow out value at $6, with strong flavors of caramelized apples, lemon, and an apple-bacon smoke finish.
3. 2009 Rhiannon Red Blend – Ok, so it's not under $10, but it's pretty close, and the only bottle over $10 to make the list.  For $11, this wine has a stupid amount of complexity, and shouldn't be ignored.  Deeply smokey like a cigar, spicy like chai, and yet smooth and reminiscent of baked jammy fruits like cherry pie, Rhiannon captures the imagination as well as the palette.
2. 2010 St. Gabriel Riesling – There was some debate in the comments or not as to whether this was a wine for commoners or not.  Well, if you like it, it's a wine for you.  With a wonderful sense of the Mosel region, a light sweetness, and a balanced crispness, this is an easy going accessible German Riesling for under $10.
1. 2009 Pacific Rim Sweet Riesling – Who doesn't love a sweet Riesling from time to time.  Well, if you're going to indulge, this is the bottle.  There's a great balance of fruit flavors from across the board, getting as tropical as lychee and guava.  It also has plenty of acidity to balance out it's sweetness, and a nice floral component.  Oh so delicious!
Agree?  Disagree? Let us know your top 5 in the comments!