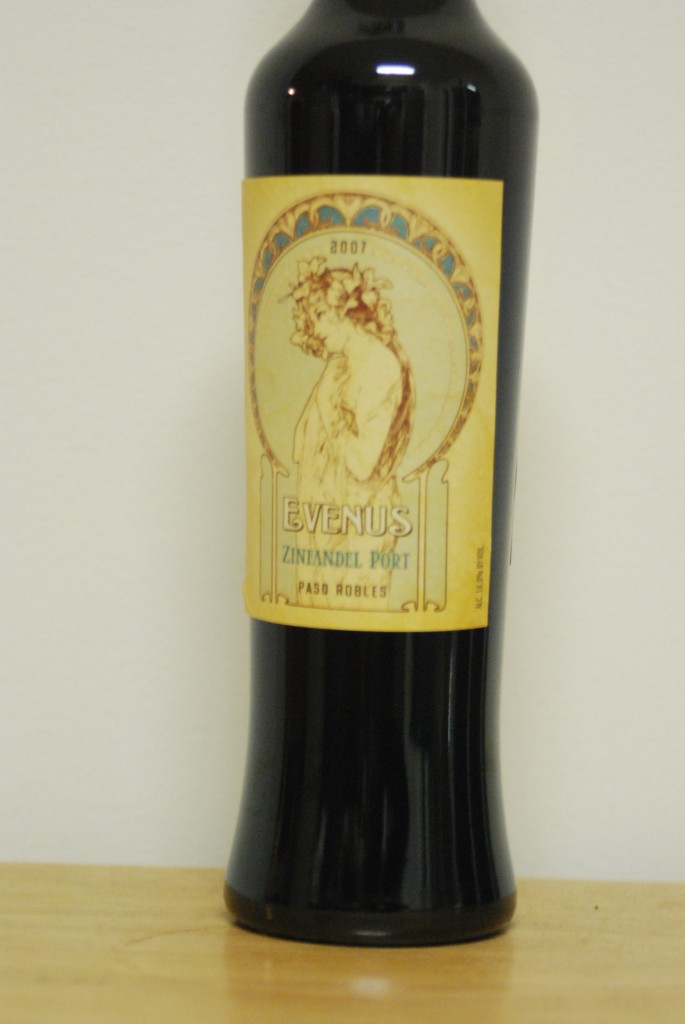 For those that like their wine slight sweet, port is one of the most amazingly delicious wines for after dinner or just a nip.  While it's traditionally from Portugal, some of the most reasonably priced, delicious port style wines come from outside Portugal.  With the lack of constraint from the government in countries that aren't Portugal,  Port can be made of varietals that aren't one of the traditional 4.   2007 Evenus Zinfandel Port seeks to bring a new layer of depth to port through zinfandel's wonderful huge, chewy thick red fruit personality with a bit more sugar.  Does it succeed, or should port be left to the Portuguese? 
Sight:  A reddish – caramel brown color.  Something like a caramel brick.
Smell:  Plenty of dried fruits such as apricots and raisins, a rich, dark, ripe plum, and a bit of dates.
Sip:  A heavy mouth feel, but the sugar isn't cloying (but it's getting close), and the alcohol is very smooth.  The flavor profile has plenty of beautiful prune and preserved Turkish apricot notes.   Notes that make up the background include touches of anise, currant, leather, coffee, and sage. [A.B.V. 18%]
Savor:  The aftertaste is smooth and prune like.  It's very natural and plummy.  It carries for a good length.
Overall,  2007 Evenus Zinfandel Port pulls out a good performance and shows it's Zinfandel nature while carrying through port style.  People that enjoy jammy flavors with a bit of spice in their wine, as well as a lot of depth won't be disappointed in this selection.  It also can be a great dessert pairing for chocolate and red fruit based desserts, like a raspberry chocolate layer cake.  Perhaps the only complain is the size of the bottle, but a 375 ml isn't uncommon for a dessert wine.   Despite this, it's still worth a try.
Verdict:  Zinfandel Port?  Yes please!
Price: $9.99
Paso Robles, California
[Trader Joe's Exclusive]