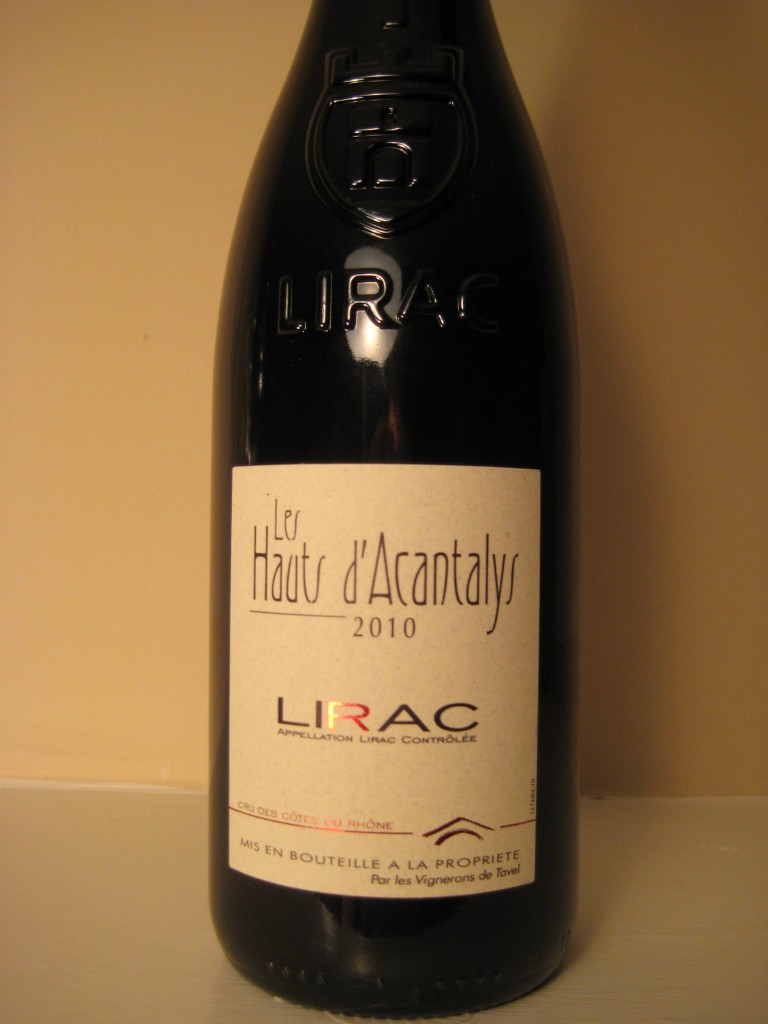 Our first Cru.  Well more than that, our first Cru Des Cotes Du Rhone.  Hailing from Lirac, this wine belongs to a select group of growers that are typically known for producing better wines.  Now, this isn't always the case, and France has one of the most undeniably complex wine systems in the world.  As such this wine has significant regulations, including the grapes which can be used, the quantities in which they must be used, and the required alcohol levels.  Of course all this is most likely sounding like it will cost and arm and a leg, and usually, it can.  Fortunately, not all Crus are ridiculously expensive or held in the same esteem as say, Château Lafite-Rothschild.  While one could most likely devote the better part of a lifetime to understanding the wine classification of France, generally speaking it's easier to say that Cru is a rather good sign.
Unfortunately, while Lirac (this is in France) has some Cru's it's never quite been the most respected.  That aside, can 2010 Les Hauts d'Acantalys pull off an amazing wine for just over a ten-spot, or is it just another commoner in royal clothes?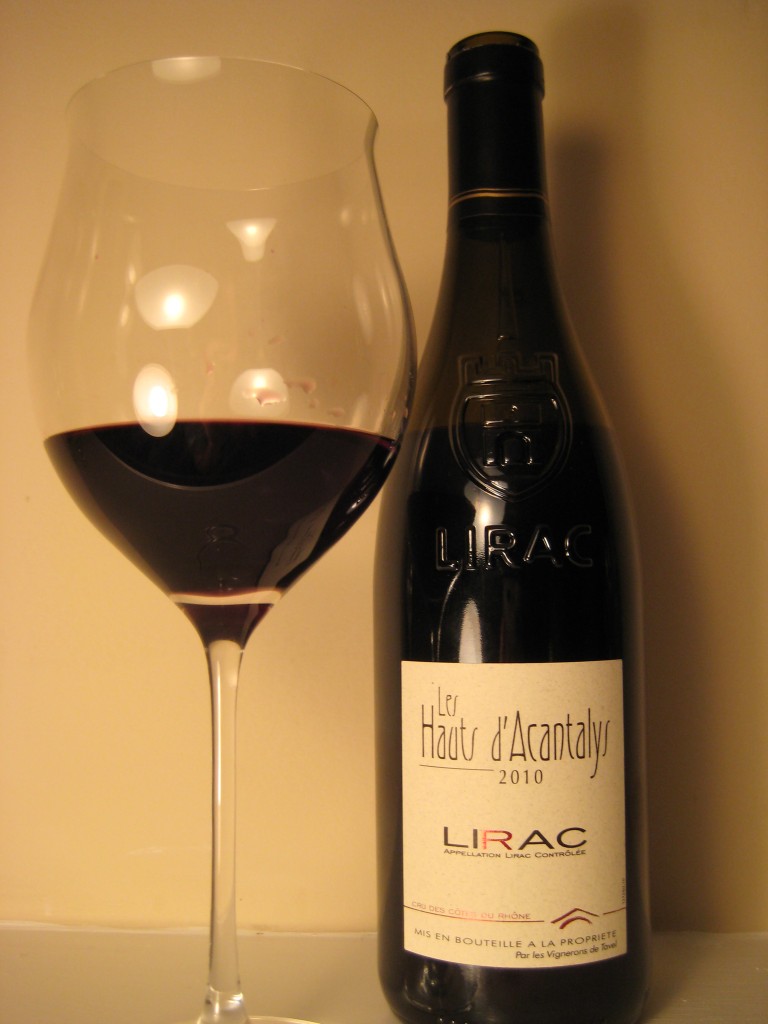 Sight:  This wine is still quite clearly young, with magenta edges, and deep purple center.
Smell:  There's this beautiful sort of cranberry, earth, vanilla smell than wafts out of the glass. There's a hint of caramelizing dark brown sugar, a bit woodsy smell, and something vaguely blueberry.  There's also a light spiciness, like all-spice with a twist of pepper running through the background.
Sip:  This wine feels a bit fuller than expected on the palate, and there's no touch of any sweetness.  The alcohol and acid are slightly aggressive, as are the tannins.  This wine is quite large, and channels flavors of  bold cranberry, sage, lavendar, and nutmeg, with touches of underripe raspberries and strawberries, and a smack of bitter almonds.  The wine is actually unpleasant to hold on the palate due to the somewhat bitter nature. [A.B.V. 14%]
Savor:  There's a small amount of almond that lingers subtly behind a deluge of cranberry and earth infused tannins.  The flavor lingers a considerable amount of time.
Overall, 2010 Les Hauts d'Acantalys is good for the price point, but pushing the limits of what acceptable acidity, alcohol, and bitterness are.  It's hard to dissect what exactly makes this wine so lacking, but the general sense is that perhaps 2010 wasn't exactly the best year for Lirac.  The flavors and terroir drivers are all there, and stylistically, it's accurate, but somehow the wine is like a vacuum of sweetness and enjoyability.  It's almost as though the wine were perhaps kept on the skins and stems for too long, and absorbed more tannin than planned, with a higher acid from lack of ripening.  While not the most obvious candidate, this wine will probably soften out with a bit of cellaring, and be more drinkable, but don't bother opening it until at least the end of 2012.
Verdict:  Too young, too bold, too difficult
Price: $10.97
Blend: 45% Grenache, 40% Syrah, 15% Mourvèdre
Cru Des Côtes Du Rhône
Appellation Lirac Contrôlée (AOC Lirac), France