For the next few days, it's all about Thanksgiving:
The Basics For Pairing Your Bird
2010 Le Campuget Grenache Viognier

The Basics
Anyone who's ever gone to the wine store trying to purchase wine for a fancy Thanksgiving dinner wants to be the hero. Show up with something amazing, no one expected, and everyone talks about it for years.  It'd be even better if it's cheap.  The wine store can be overwhelming though, and it's usually easier to walk about with a bottle of something familiar, but what if you want something special?
Well there's a few basic wines to keep in mind if you're looking for something special for Turkey Day.
Traditional
White: Traditional pairings include Riesling, Sauvignon Blanc, and Gewürztraminer.
Red:  Lighter tends to be better, Pinot Noir, Merlot, Shiraz.
These wines are the most traditional pairings. Dry and off-dry will work best for Riesling, complimenting the turkey and spicy sides.  This goes ditto for the floral and spicy Gewürztraminer.  Sauvignon Blanc will not only compliment the white meat, but the acid can help cut through the richness of the dark meat.
Since not everyone likes white, the general guideline for reds is more spice and lighter body to not overwhelm the Turkey. Earthy elements in Pinot Noir and spicy notes from Shiraz can also elevate most of the sides.
First Pour Wine Picks
White: Riesling, Grenache Blanc, non-chardonnay white's that include Viognier, Gewürztraminer.
Red:  Chianti, Pinot Noir, Shiraz, and for the leftovers, Gamay (Beaujolais Noveau)
While most of these are the same, there are a few standouts. Grenache Blanc and Viognier offer the characteristics of Sauvignon Blanc with less green and Gewürztraminer, with more floral notes.  This can make for an interesting pairing with the turkey and accouterments.  A brief note on Sauvignon Blanc, Fume Blanc could be awesome for anyone smoking their bird.
For the reds, Chianti and Gamay both bring something special to the table.  Chianti's acid could play very well with the turkey's texture and the fat in the dark meat.  Gamay (Beaujolais Noveau) on the other hand, is the perfect 'day after friend'.  Think cold turkey picnic.
2010 Le Campuget Grenache Viognier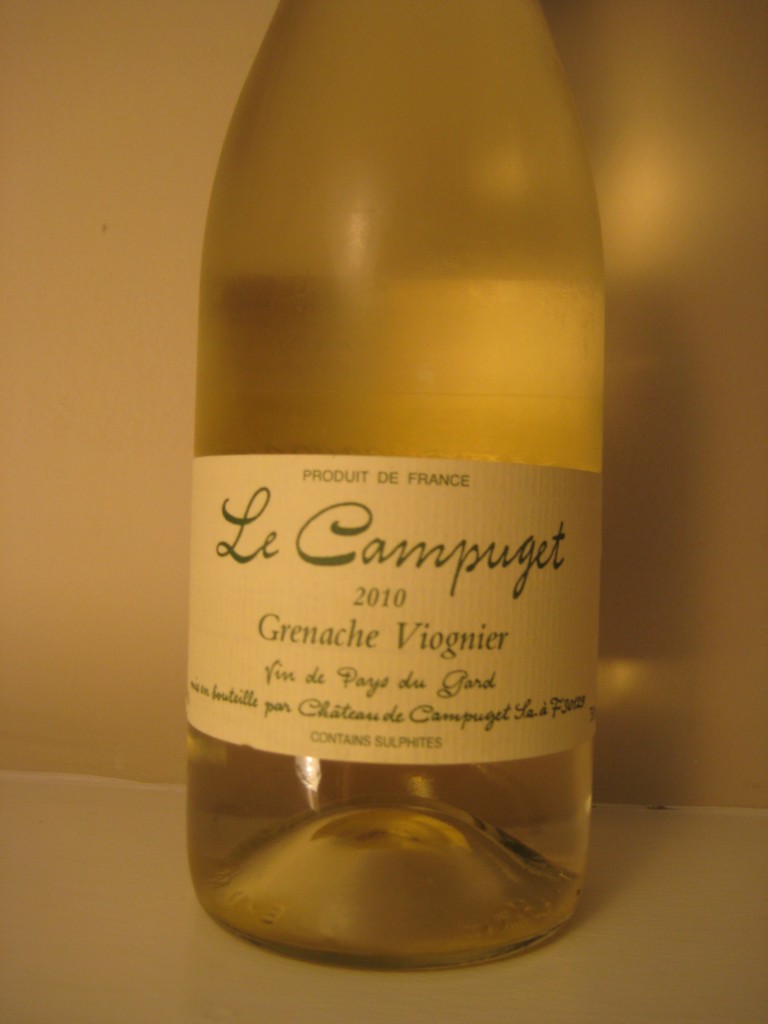 With all those picks, it might be best to start at one of the least common.  Grenache Blanc / Viognier is not a style of this wine that's overly common, yet thanks to a love affair for Grenache Noir, I've been compelled to try this wine.  Given it's promise of floral acid, this wine does something that Viognier frequently doesn't, mix with something other than Chardonnay.  The combination should be an explosion of crisp floral flavors.  Can 2010 Le Campuget Grenache Viognier deliver, or is it just an oddball blend?
Sight:  Very pale, almost just this side of platinum blonde.
Smell:  Anjou pear, lilies, slight rose, and light honey all meet in the nose.  There is also a light melon and slightly herbal note.
Sip:  There's a subtle sweetness that occurs at the start of each sip, but a firm crisp backdrop.  The mouth feel is firm, and the flavors evolve starting from a mild melon and pear, to a strong rose, lavender, and lemon flavor. [A.B.V. 13%]
Savor:  There's a beautiful honeysuckle and lemon ending that accompanies the end of this wine, lingering briefly.
Overall, 2010 Le Campuget Grenache Viognier just nails the combination of bright sweet fruit flavors, and musky floral body.  The grenache blanc adds plenty of melon and acid character, while the Viognier pushes a strong mouth feel and plenty of floral notes.  The contrast and blending is very well balanced.  This balanced backdrop will give a great contrast to white or dark meat, and the floral notes will add depth to sides like sweet potatoes.
Verdict:  A blast of crisp, floral flavor
Price: $9.99
Vin de Pays Du Gard, France
Blend: 70% Grenache Blanc / 30% Viognier