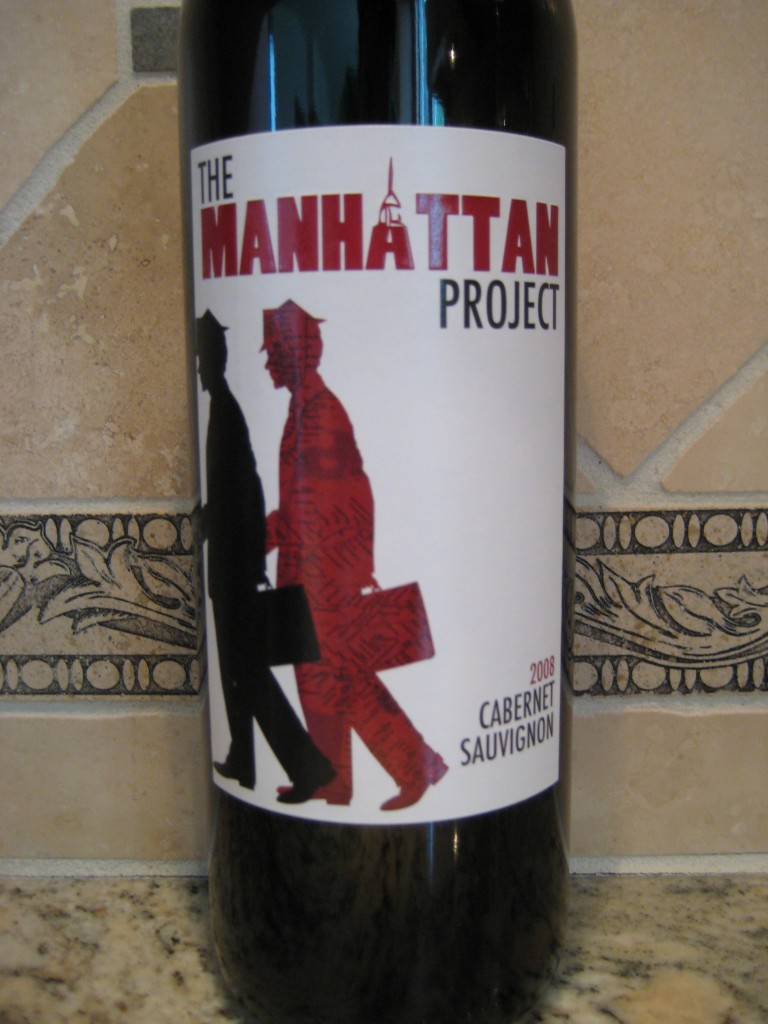 The Manhattan Project 2008 Cabernet Sauvignon comes from Walla Walla, Washington. While not necessarily the first place most people would think of when it comes to big red wines, Washington's only shared AVA with Oregon packs some huge red wine powerhouses in a relatively small area!
Dedicated to the big city, in an effort to replicate (or perhaps cash in) on the large and wonderfully big, loud, amazing place that is Manhattan,  there's a certain affinity for those of us that have lived in the city (or watch too much Mad Men) that makes the wine label an attractive purchase.  Of course there's the other meaning of the Manhattan Project, which was the infamous title given to the effort to create the first Atomic Bombs, so does this wine raise a glass to the big apple or is it just a bomb?

Sight: A very deep purple, perfect for a Cabernet Sauvignon.
Smell: Raisins, black currant, and plum mix with vanilla and cherrywood.
Sip: Blackberries, black currants, and plums meet with full power in a firm wine.  The acidity is slightly higher than usual for Cabernet Sauvignon, but is rounded out by lovely notes of toffee and coffee. [ABV 13.5%]
Savor: Raspberry mocha espresso lingers enticingly on the palate, with a gentle but flavorful touch of acidity.
At $9.95 this is a very good Cabernet Sauvignon, being both well balanced, and very flavorful.  The wine itself is quite smooth, and the flavors are enjoyable for just drinking or matching with food.  The acidity helps to keep the wine lively as well.  While it isn't necessarily the kind of wine you'd be looking to have with a big grilled steak, it will pair well with pasta, marinated leg of lamb, or cheeseburgers.  If you can find it, definitely pick up a bottle!
Seriously, buy a bottle.  It's delicious.
Price: $9.95
Walla Walla, Washington