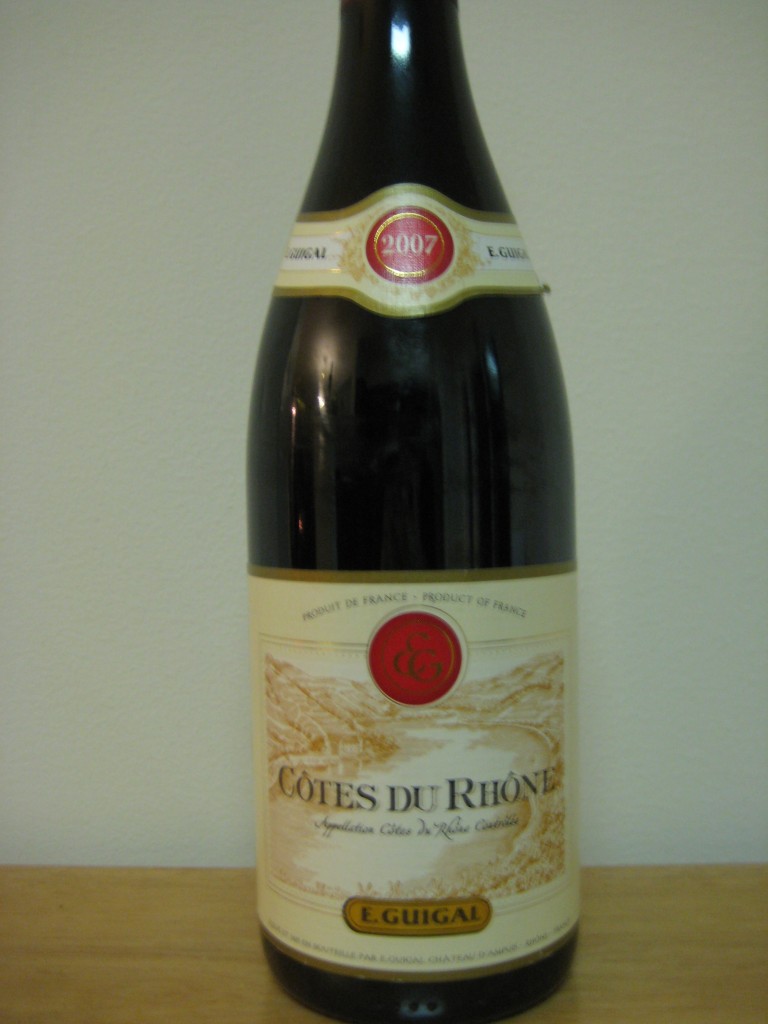 The Rhône is without a doubt one of the best places in the world to enjoy a bottle of wine from.  The region is known for many fantastic producers, and almost all producers reach at least good quality if not better, even for the cheap stuff.  The highest levels are the named regions, such as Hermitage and Côte Rôtie,  while the lowest level is Côtes Du Rhône (which refers to the entire region).  Guigal is one of the standard bears for Côte Rôtie, and as such, one would expect to produce a brilliant Côtes Du Rhône, does this hypothesis hold true, or does 2007 E. Guigal Côtes Du Rhône miss the mark?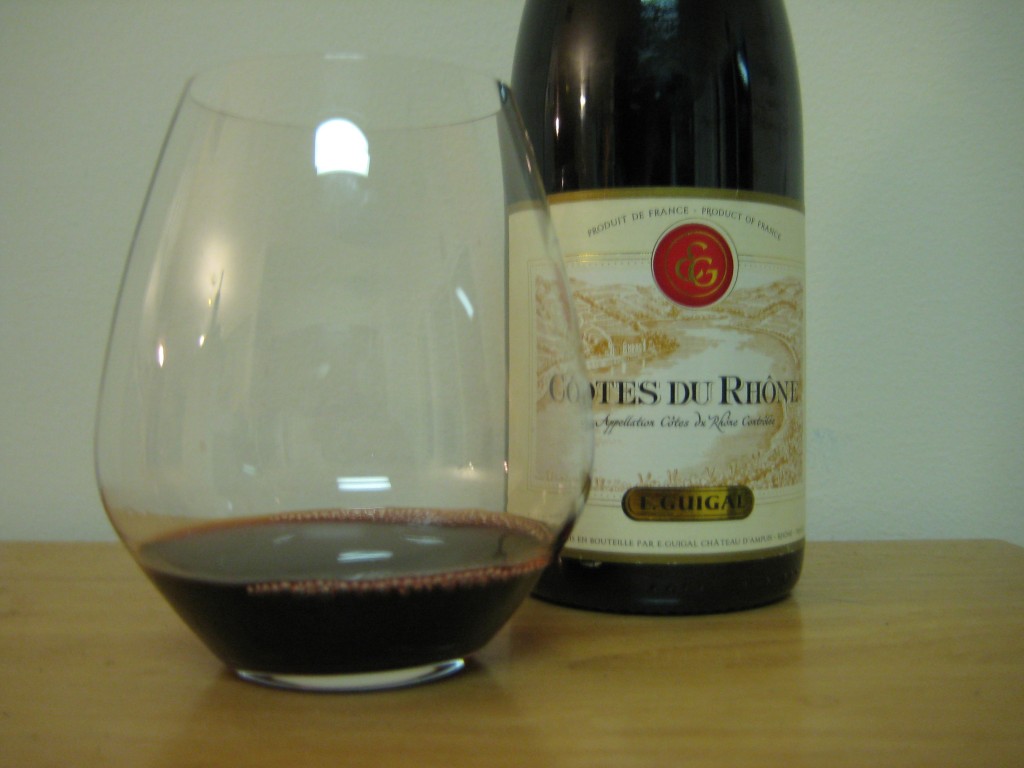 Sight:  Deep red, almost brick like color.  The center is a muted ruby core.
Smell:  Earth abounds in this strawberry and raspberry infused power house.   There's a bunch of mocha and espresso as well.  There's a touch of licorice and herbs as well.
Sip:  The body is quite light for the height of it's alcohol, and there's only an initial touch of sweetness.  The flavor of the wine is a magnified blackberry, raspberry, with hints of mocha and espresso.  Despite the touch of heat, there's a decided subtleness to it's smoothness.  [A.B.V. 14%]
Savor:  The earthiness takes over here with a mild amount of espresso and oak.  The blackberry jam holds in the background, but is pleasant.  The aftertaste evolves for a while after words.
Overall, 2007 E. Guigal Côtes Du Rhône is about the savor. It's said that great wines have long finishes, and one thing that Guigal manages to demonstrate is how to keep an evolving flavor experience. That being said, the finish isn't everything, sometimes it's about the journey, in that regard this wine is above average, but not great. At a lower price point, it's a total purchase, but at $15, those looking for an old world Rhône blend are more the audience.
Verdict: Rhône and Ready
Price:  $14.99
Appellation Côtes du Rhône Controlee (AOC)
Blend: Syrah 96%, Grenache 4%
http://guigal.com/