The time to crack open the bubbly is only a few days away, lets take a look at a couple of bottles that might fill-in for Champagne, namely Sparkling Rosé:
Yellow Tail Sparkling Rosé
Yellow Tail made one of the best Sparkling White Wine's I've ever had about 2 years ago, and since switching their branding to Yellow Tail Sparkling, it hasn't been quite right since.  Given that some people like a drier style of wine, it seemed like it might be worth a shot to have a dry Rosé on for under $10, but is it any good?
Sight:  It's an orange sort of color, quite a bit more than it's pink.
Smell:  Not a lot of anything.  It's strongest characteristics are semi-sour tangerine and a bit of earth.  Maybe a hint of raspberry.
Sip:  The fizz is light compared to the white, and the flavor profile isn't particularly powerful.  The mouth feel is also moderate.  The weak flavors are primarily orange and tangerine, on the sour side, with hints of minerality.  A touch of strawberry, but mostly not much. [A.B.V. 12.5%]
Savor:  There's minimal activity here too, just hints of tangerine and raspberry that disappear faster than seems possible.
Overall, Yellow Tail Sparkling Rosé commits the most mortal sin of wine, it's boring.  It's an inoffensive, orange tinged, dry bottle. It's completely unmemorable.  If you buy this wine, no one is going to remember it (but they might remember you as the person that showed up on New Years with that boring bottle of Yellow Tail).  Do yourself a favor, if you must have something dry and sparkly from Yellow Tail, buy their white.
Verdict:  A Rosé By Any Other Name Might Smell Like Something
Price: $7.99
South Eastern Australia
http://www.yellowtailwine.com/
[Disclaimer: This wine has been stored for 2 – 3 months, and there is a new style of bottle out. At the time, the newer bottle was not available. The newer bottling may have better results, and is at least resealable, so now you could take home this wonderful bottle.]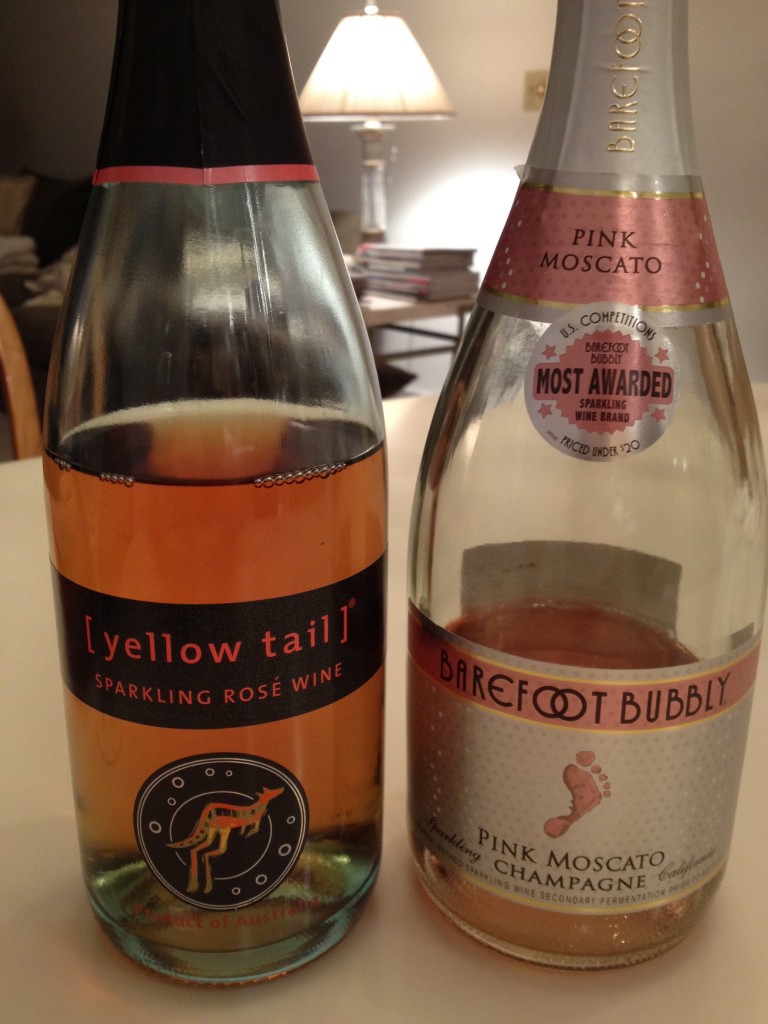 Barefoot Bubbly Pink Moscato
Disclaimer: This bottle was sent to us by the folks over at Hunter PR, not purchased by the First Pour Wine. The opinions expressed are solely those of First Pour Wine.
Sure, the folks at Barefoot still seem to be missing the message that the wine isn't from Champagne.  What the marketing department is lacking, the winemaker is making up for, shipping out simple, fun, and enjoyable wines.  Without a doubt, the Moscato Spumante earlier was one of the most fun and tasty sparkling wines this year, and so it only seemed right to give their Pink Moscato a go as well.  Does it live up to it's kin, or is it the black (pink) sheep of the family?
Sight:  A bright fun soda like pink, reminiscent of raspberry ginger ale.
Smell:  How much strawberry can you pack in one glass?  How about tons, with a lot of rose, and some light touches of citrus.
Sip:  Lots of strawberry and roses here in a glass full of sugar and a lot of brightness.   Slightly floral as well,  this wine make sure to keep a balanced mouth feel between sugar and acid, while having nice moderate bubbles.   Light and fun [A.B.V. 9%]
Savor:  While not the longest finish, there's a nice musky ending with plenty of fresh strawberries.  It doesn't last long, but long enough to be pleasant and ask for a bit more.
Overall, Barefoot Bubbly Pink Moscato is stepping in perfect rhythm for sweet drinkers.  It's balanced enough to not be overwhelming, but has enough Moscato floral notes to not seem like a cloying soda.  The acidity is fun as well.  This wine doesn't take itself too seriously, and is a great way to ring in the new year.
Verdict:  Two Step from Barefoot Bubbly
Price: $9.99
California
http://www.barefootwine.com/