On this episode, plenty of deep red, earthy wines, with lots of Italian flare, including:
The real heel of Italy, Apulia
Always getting kicked around, Sicily
2009 Tormaresca Neprica
2007 Regaleali Nero D' Avola

Apulia
Apulia is the long strip of narrow land that runs from the tip of the boot to the spur to about a quarter of the way up Italy.  This area is famous for lots of cheap table wines that can never the less represent very good values for everyday reds.   These wines are most often juicy, robust, and rustic.
The primary grapes are Negroamaro, a big red grape loaded with tannins and acid,  Uva di Troia, and Primitivo, which is the same as Zinfandel.  Negroamaro and Uva di Troia are undoubtedly the two varietals that produce the most famous wines, Salice Salentino and Castel del Monte.  Primitivo will often add background and character, but occasionally does get out on it's own.
Sicily
Sicily might be better known for cheap red wines of massive quantities and Marsala than for robust, rustic, passionate wines.  This is a real shame, since Sicily has a lot of great wines that have truly unique personalities.  While there are many different styles of Marsala and dessert wines that are made on the island, there is one specific red varietal that stands out.
Nero d'Avola is an intensely black varietal that frequently produces rustic, fruit forward, terroir inclined red wines that almost convey the heat and passion of Sicily in a glass.  While the wine is juicy and crammed with depth, it has a certain amount of elegance and panache that elevate it to something special, that is frequently affordable.
2009 Tormaresca Neprica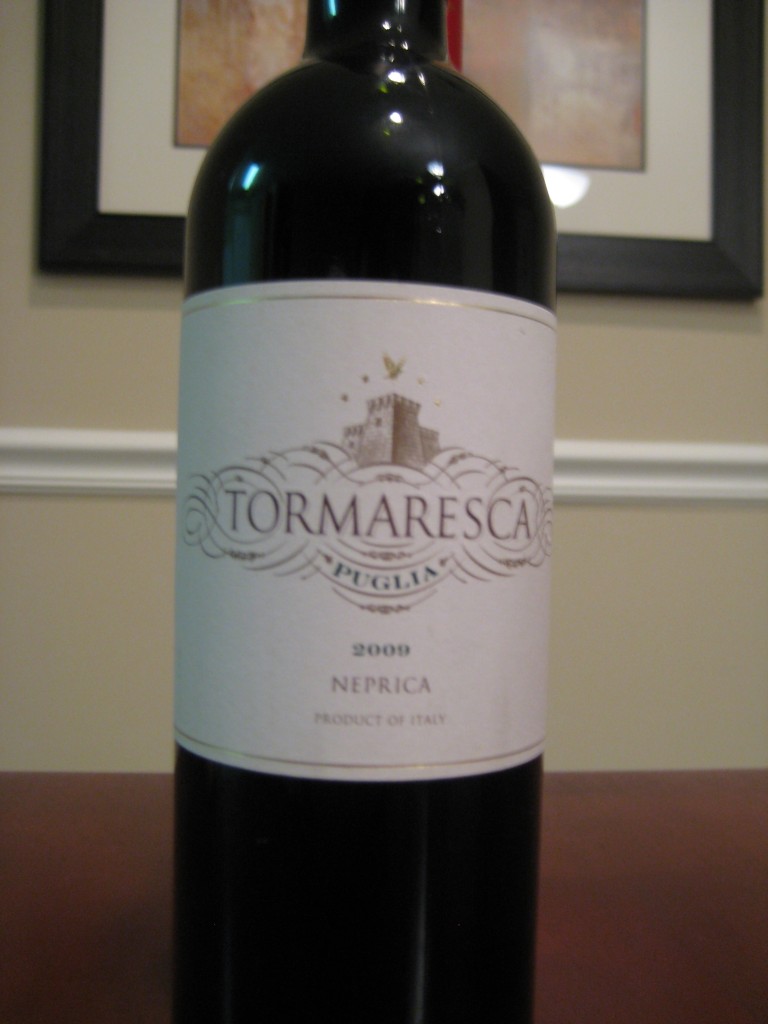 This blend is rather unusual, but leading with negroamaro, it seemed as though only good things could come from tannin, acid, and body.   Hailing from Puglia [a.k.a. Apulia], this combination looks like a winner, but can 2009 Tormaresca Neprica cash in on it's background and varietal, or is it just too much character?
Sight:  A dullish, red – purple.  Brick with a bit of royal purple.
Smell:  Big cherry and raspberry smells with a little bit of oak and smoke.  The black fruits are jammy, like plums and blackberries.
Sip:  The tannins are thick and aggressive, the mouth feel is very full and rich.  There's plenty of blackberry, plum, and cherry.  The notes of anise and clove shine through with intensity.  There's a semi-bittersweet chocolate note about it. [A.B.V. 13.5%]
Savor:   The ending is dark like plum skin with a faint hint of espresso.  The wine feels creamy on the ending.
Overall, 2009 Tormaresca Neprica is an amazing value with plenty of complexity and depth.  The negroamaro really puts this wine clear over the top, but the zinfandel adds a chewy fruit backbone, while cab sauv shows it chops by making this wine a heavyweight.  There's something that just tastes like Italy on a warm summer day in a glass with this wine.  A must try for lovers of red.
Verdict: A dark and mysterious lover
Price: $7.99
Blend: 40% negroamaro, 30% primitivo, 30% Cab Sauv
IGT
Puglia, Italy
2007 Regaleali Nero D' Avola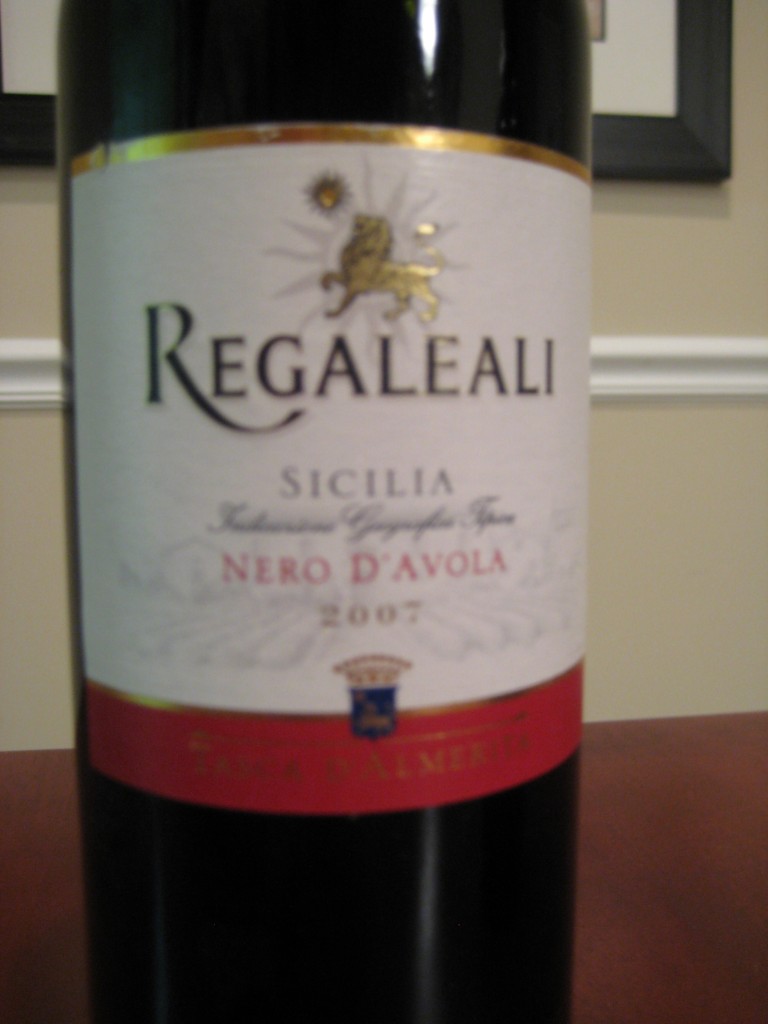 Nero D'Avola is one of those grapes that typically sends me to a happy place.  There's something sunny, earthy, and wonderful about the grapes character.  It's a grape that implies the best of a culture founded on wine food, and it carries the personality of that land that it's from with every press.  Can 2007 Regaleali Nero D'Avola carry the day for Sicily, or should it be thrown back to Marsala?
Sight:  Brick brown red edges with a purplish core.
Smell:  There's a very earthy farm scent that laces through this wine.  It has plenty of notes of subtle coffee and oak, and nice complimentary plum and raspberry notes as well.
Sip:  That deep earthy smell translates into flavor, with a little bit of coffee and raspberry.  The wine has a good amount of tannin, with a lot mouth feel, but it remains moderate on the palate. [A.B.V. 13%]
Savor:  The earthy flavor continues to have a firm coffee like streak, and there's a subtle blackberry jam running through the background as well.
Overall, 2007 Regaleali Nero D'Avola is just a bit heavy on the oak and earth.  There's nothing wrong with this wine, it just lacks some of the jamminess and heat that Nero D'Avola can develop.  It does have an interesting old world feel to it, and terroir hounds should grab a bottle or two, since this wine is definitely traditional in style.
Verdict: Farmed Volcano
Price: $7.97
IGT
Sicily, Italy