Blends are always interesting.  They allow a multiple grapes to join forces, leverage their strengths, and create wines that have characters outside the standard single varietal bottles.  This means that jammy nature of a Zinfandel could combine with the smooth body of a Merlot, and get rounded out by the muscles and black fruit of a Cabernet Sauvignon, thus creating a new wine with a character all it's own.   While not necessarily 'promiscuous' to have multiple grapes per wine, it does offer a chance to have an 'unconventional sensory experience'.  Can PromisQous use this ménage à trois of grapes to create something scintillating, or is it just a wanton disregard of convention?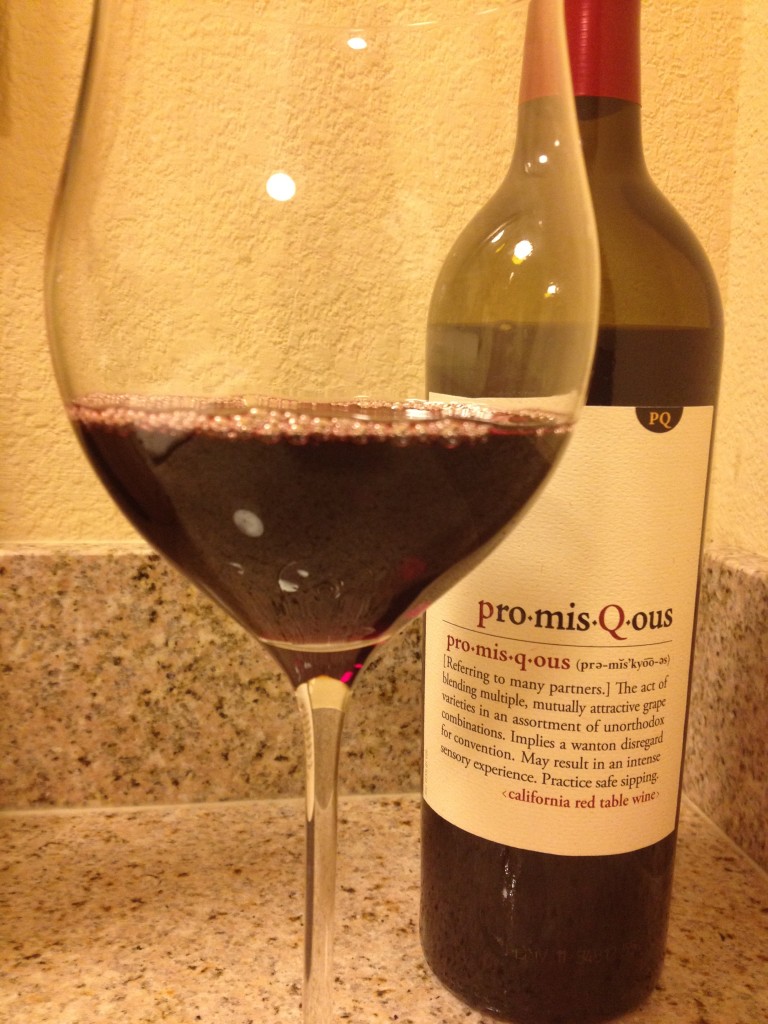 Sight:  A uniform magenta, with just a touch of lighter watery edges.  Bright and vibrant looking.
Smell:  There's a certain note of mint that hangs around the wine, but it's complimented by jammy blackberries, a slightly strawberry vibe, and a wink of currants.
Sip: The mouth feel is firm, round, and a touch sweet to start.  The acidity is subdued, but in balance with the mouth feel, and helps the wine feel open.  There's a lot of blackberry and plum going on, with notes of jammy fruit, hints of raspberry and strawberry, and the lightest touch of mint. [A.B.V. 12.5%]
Savor:  On the ending currants lead off, with a little bit of raspberry.  It's a little more bitter than expected, but it stays fruity, like a berry just short of ripeness.
PromisQous is an interest blend that achieves it's goal of being fruit forward.  It's a bit light on tannins and acidity, so as a food pairing or cellaring candidate, it's going to have some trouble.  That being said, this wine would have good chops for being an open it now, and relax with some dark chocolate and a movie kind of wine.  Given the name, it's not all that surprising that this wine is meant to be easy going and fun.
Verdict:  Date night in
http://www.promisqous.com/
Price: $8.99