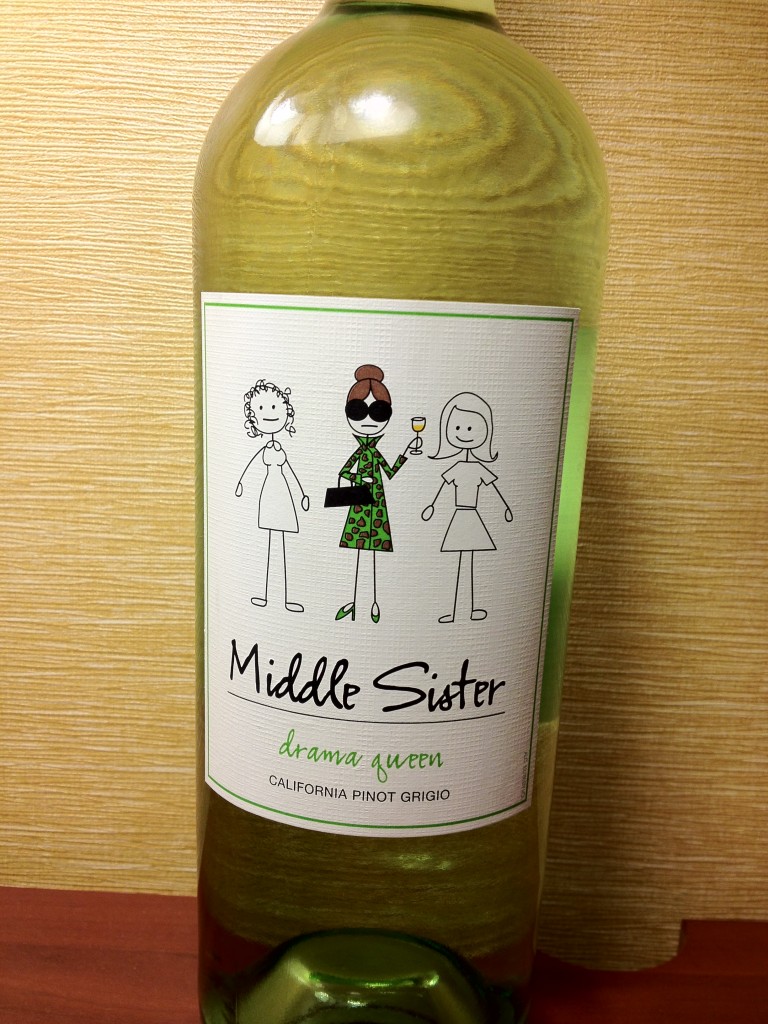 Every time I'm in Target, I'm struck by the fact that the Middle Sister wines look incredibly well branded without a lot of depth in terms of credibility.  Even the backs of the bottles don't inspire a lot of faith for a wine hovering near the $10 price point.  The wines talk to you about their "personality" and tell little about their taste or production methods.
For example, The Drama Queen
Do you know me? I'm the one in the front row. The one with the big personality, giant sunglasses, large bodyguards. I even have a wine named after me. Brilliant! A stunning Pinot Grigio, in perfect taste for any social event, from fashion shows to fundraisers…or on that rare occasion we're dining in. Admit it, Middle Sister. We so do love the attention. See you in the gossip columns!
Yet, with an urge to find a good Pinot Grigio, and positive experiences with Barefoot, it seemed worth checking out Middle Sister "Drama Queen" Pinot Grigio.  So, is it a Drama Queen or solid Californian Pinot?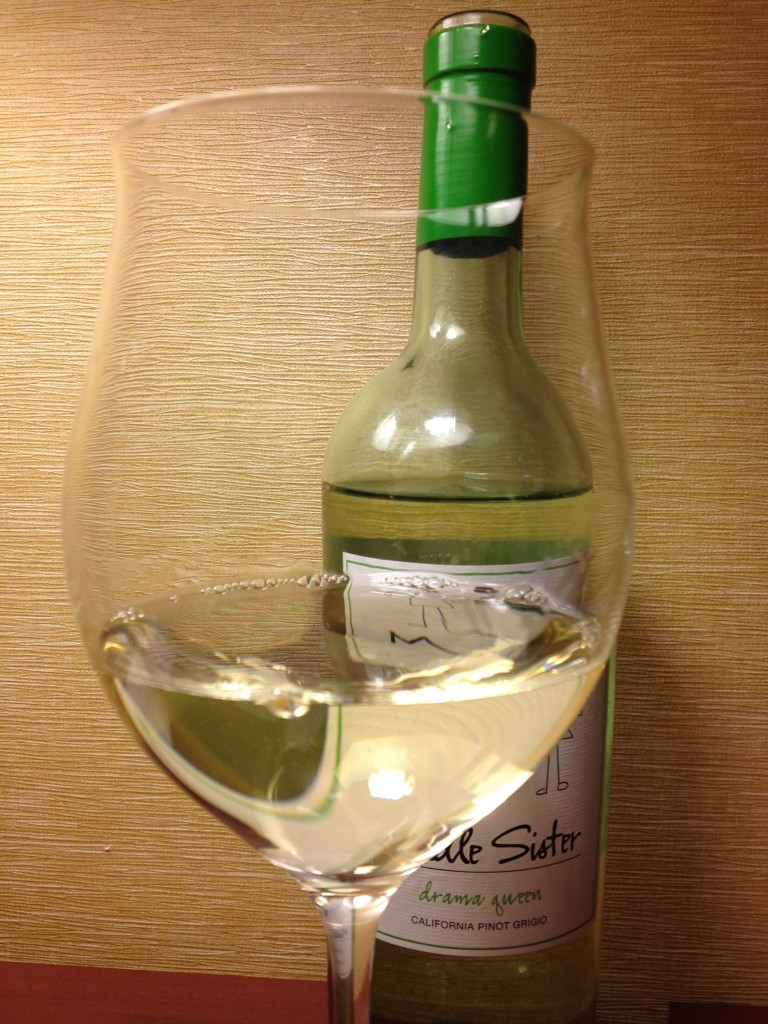 Sight:  A bit on the deeper gold side for Pinot Grigio.
Smell:  There's an interesting honeyed pear bouquet that laces lots of honeydew melon into the act.  It smells heavy, and somewhat floral for a pinot grigio, in that inexplicably sweet cucumber sort of way.  Very clean smelling.
Sip:  There's an instantaneous kick of elderflower and pear, with a subtle sweetness, and a heavy body.  It transitions to lemon, tropical fruit, and subtle unripe stone fruit, with touches of melon and sea salt.  The flavors aren't the cleanest, but the acidity coming through toward the end helps. [A.B.V. 12.5%]
Savor:  The melon and pear carry over, lingering with a bit of lemon pith.  The ending feels clean.
Overall, Middle Sister Pinot Grigio proves to be a rather warm climate example of Pinot Grigio.   It's entirely new world, and much like it's nickname, Drama Queen, it's bold, in your face, and not very subtle.  What it doesn't mention, is that it's also oakless, and contains about 12% each of Chenin Blanc and Chardonnay, which explains the fruit and size.  As a Pinot Grigio, it's a bit too large, but as a wine, it's quite enjoyable.  If not a fan of Pinot Grigio, this might be the Pinot for you.
Verdict:  Total Drama Queen
Price: $9.99
California
Blend: 76% Pinot Grigio – 12% Chenin Blanc – 12% Chardonnay
http://www.middlesisterwines.com/