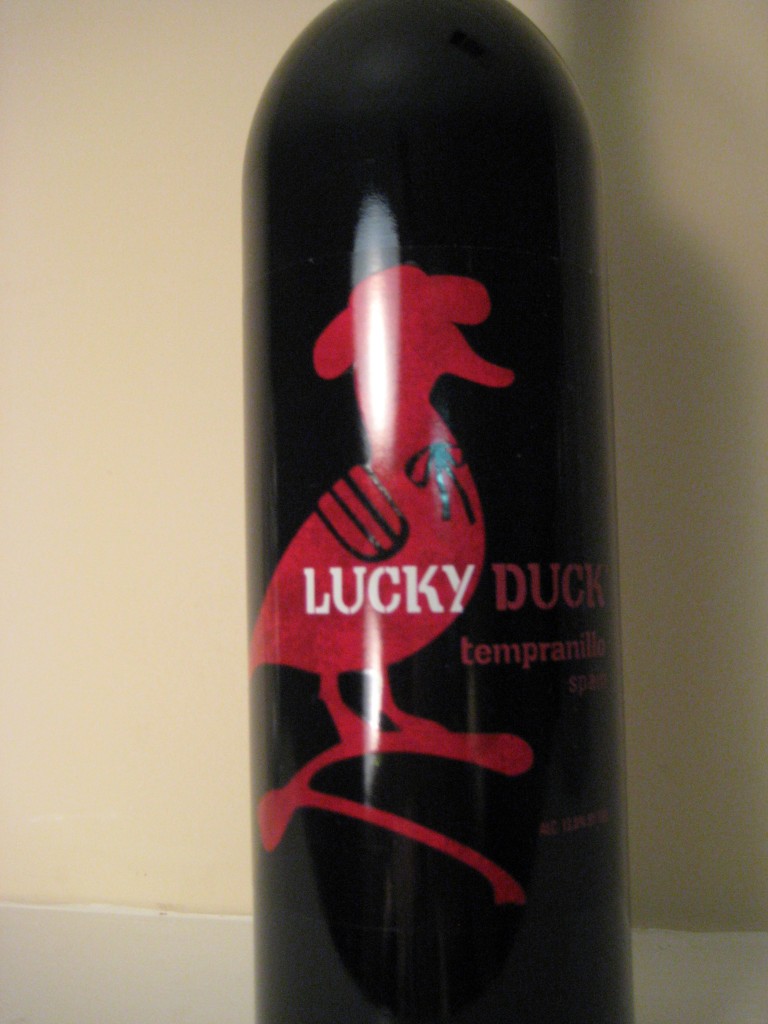 If memory serves me correctly, this is the first Lucky Duck that has been red that's been on the site.  Once again, it claims it's country of origin with a duck in a questionable hat, and hangs out under $5 a bottle.  Just for a moment, consider what it would cost to buy a ticket to cross the Atlantic.  Now scale will say that shipping this much wine to Walmart, it's bound to have a lower rate since an enormous amount must be shipped. Even with that reduction though, there's the cost of ground transport, storage, making the wine, growing the wine, paying the labor, and so on.  It stands to reason then, that at under $5, they're either shipping an enormous amount of Lucky Duck from Spain, or these are some seriously sad (or at least productive) Tempranillo vines.  Can Lucky Duck Tempranillo break Lucky Duck's unlucky pattern, or is this wine just not plucky enough.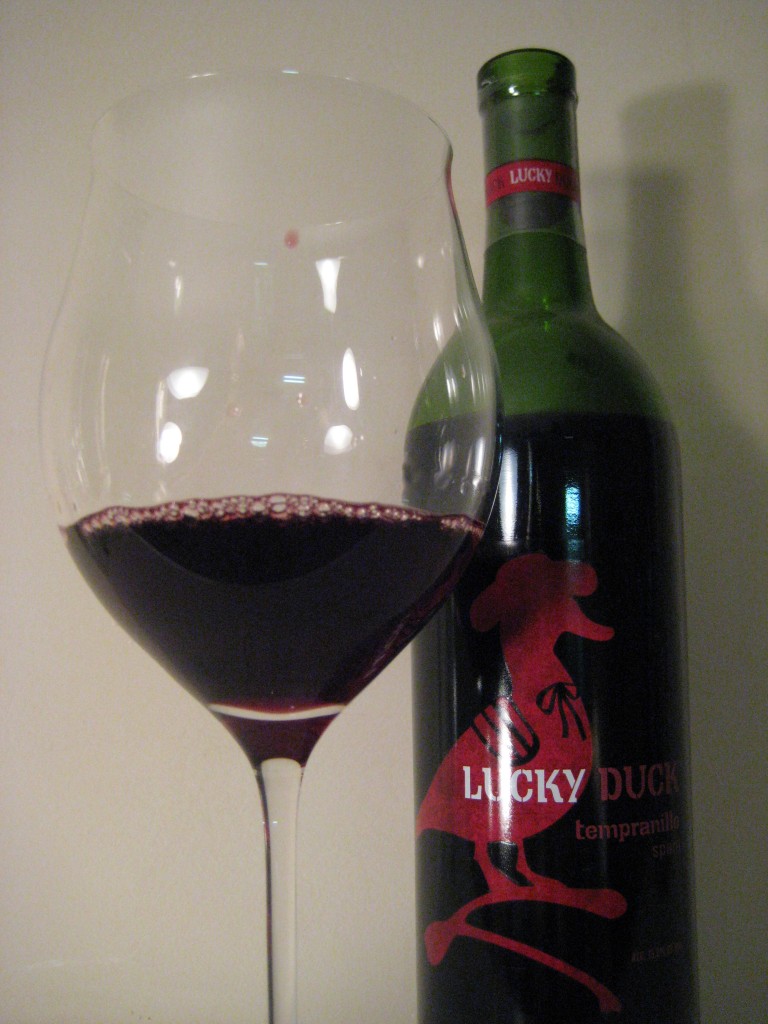 Sight: Light red, hint of brick, not particularly bright.
Smell:  There's a lot of cranberry and cherry smells, with a tiny hint of oak and spice.
Sip:  The wine is light, and has a lot of acid, almost to a pucker.  Cranberry and cherry flavors prevail, albeit it on the slightly under ripe side.  A touch of spice,  a hint of tannin, and a smack of heat as the alcohol consistently says hello from the lips to the stomach. [A.B.V. 13%]
Savor:  The tannins grow here, and bright cranberry quickly mutes into various overripe black fruits.
Overall, Lucky Duck Tempranillo is just astringently out of balance.  There's nothing wrong with some acidity and alcohol in a tempranillo, but the watery mouth feel of this bottle, combined with the lack of flavor depth skews the wine to feel hot and ethereal.   The aftertaste combined with the tannins is a bit like having plum skin stuck on your tongue. In a pinch, it's a go, but skip it for any of Spain's current cheap and awesome offerings.
Verdict:  Still waiting for Goose
Price: $3.97
Spain
Walmart Exclusive