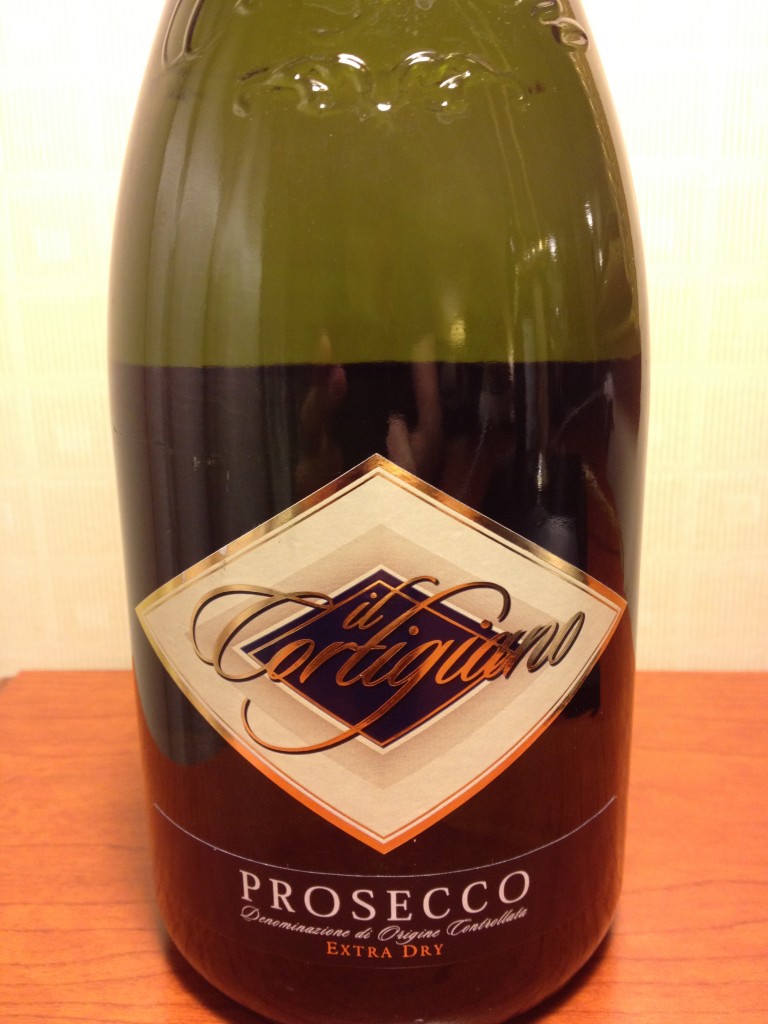 If you've had something that claims to be Champange in a cocktail, there's a good chance it's either Cava or Prosecco.  Both wines are of reasonable quality, and are typically very affordable.  Champagne by contrast is usually high quality (although not always palatable for everyone), and rarely affordable.  In fact, it's typically way past $10, usually closer to $30, and can easily fetch well over $100.  However, that's not to say Prosecco is only a stand in, and can't be great on its own.  il Cortigiano Extra Dry Prosecco claims to be a slightly less dry version of this typically bone dry sparkler, but does it deliver?
Sight: Light gold, small plentiful bubbles, bright.
Smell: Peaches and golden delicious apples, with a lightly floral note. Some tropical fruit like lychee and banana.
Sip: Slightly bright start, small firm bubbles that grow as it continues. A touch sweet, very foamy, apple and apricot predominate, but primarily apple. The bubbles are slightly too aggressive, overpowering stone fruit. Mouth feel is light.
Savor: The finish is reminiscent of apple skin, building into peach over time.
il Cortigiano Extra Dry Prosecco is nice, but can't get out of its own way. Somehow all the key elements are in play, but the net execution falls short. The bubbles overwhelm the flavors, and the finish leads off slightly harsh. This wine might be an ideal candidate for mimosas, or mixing.
Verdict:  Sparkler of all trades.
Veneto, Italy
Price:  $7.99