Sometimes the label tells you what an interesting experience you're going to have before you've even opened the bottle.  The harlot on the front of Harlot's Harvest Pike Pumpkin Ale reminds you right off the bat that this beer's got a nice set credentials [or pumpkins].  The presumably immoral pleasure seeker on the bottle is actually a throwback to the The Pike Brewing Co's former life as a brothel.   Much like the label suggests, this beer doesn't want to be your mamma's pumpkin pie.   Is this west coast harpy just a tease, or does it deliver?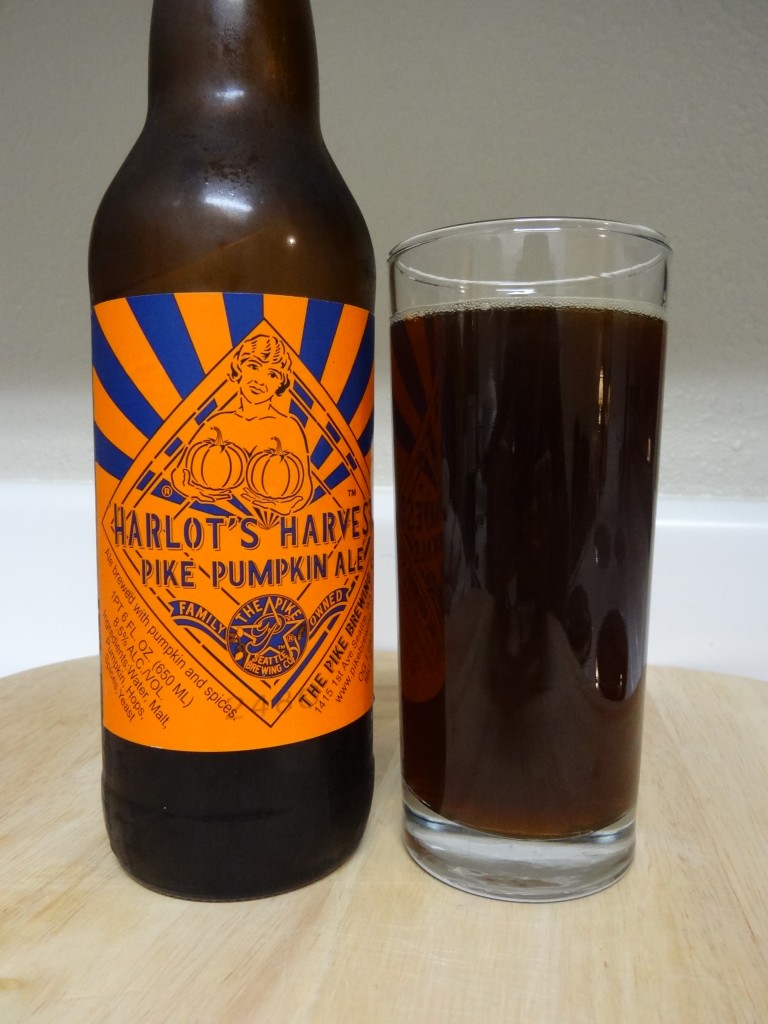 Sight: Right from the pour it's obvious that Harlot's Harvest Pike Pumpkin Ale is something completely different.  A deep hazy brown, with a similar color to a chocolate lab. The head is minimal, but a nice coffee brown.
Smell:  A sweet deep caramel aroma, with light brown sugar, cinnamon,  pumpkin spices, and earthy notes.  It's almost a little bit raisin like, channeling fermenting fruit.
Sip:  The mouth feel leads off full thanks to the high alcohol, and the beers weight is accompanied by a slightly sour note, again, pulling in some of that fermenting grape flavor.  The characteristics it has though, are deep and earthy, with plenty of brown sugar and coffee like flavors.  Pumpkin isn't particularly noticeable, but it does have some elements of cinnamon in the background. [A.B.V. 8.5%]
Savor: The aftertaste is like fermented burnt coffee mixed with pumpkin spice elements.  It lingers a long time, twisting through many dark, alcoholic, and spicy-sweet flavors.
Harlot's Harvest Pike Pumpkin Ale is an almost vinous brew, mixing complicated burnt caramel malt character with fermenting pie spices.  It is beyond a doubt, one of the deepest 'pumpkin' offerings out there, with a character that changes with almost every sip, showing some new undiscovered flavor combination.  Perhaps the biggest disconnect relates to the fact that it isn't very pumpkiny.  If you weren't told this beer is trying to be a pumpkin based beer, it seems unlikely most people would instinctively leap in that direction.  In fact, if anything, it seems closer to Dogfish Head's Raison D'Etre than to any of the pumpkin offerings thus far.  If that's the style of beer you crave, than Harlot's Harvest Pike Pumpkin Ale is right up your alley.
Verdict:  Vinous, Dark Caramel, Burnt Coffee, Spicy
Price:  $4.99 / 22 oz bottle
Seattle, Washington
http://www.pikebrewing.com/
Looking for a second opinion?
Serious Eats looks at 6 Unusual Pumpkin Brews