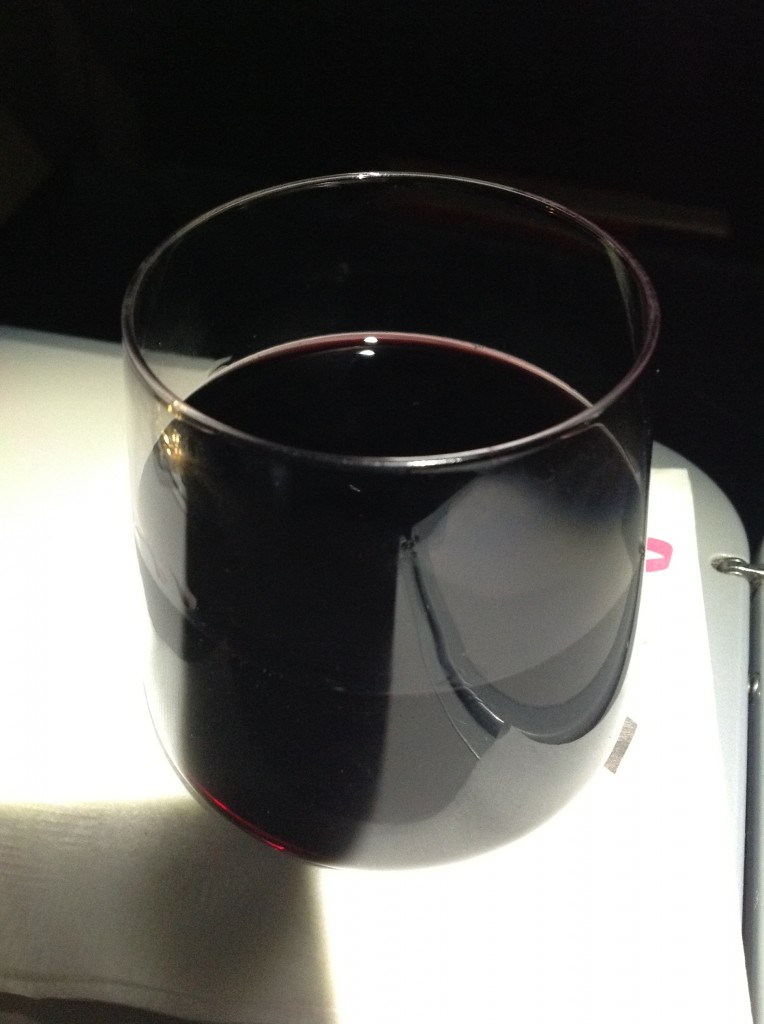 Wine can happen anywhere (including places with very bad lighting], and having had the rare opportunity to fly first class with Delta, I decided to give the wine ago.  Representing their red selection was Canyon Road Cabernet Sauvignon. How did it fare?
Sight – Inky black with deep red edges, possible glass obfuscation
Smell – Black plums, black currant, dark cherries, dark chocolate, subtle spicing. A very fruit forward nose
Sip – Generally low acid, fairly smooth, and rather weighty.  Chocolate, black currant, plum skin, and a subtle dusty, stemmy flavor comes forward.  It's not a clear set of flavors though.
Savor – The tannins are not super aggressive, plum, earth, and a bit of a cedar note round out the finish
Canyon Road Cabernet Sauvignon is a fairly generic, slightly muddled Cabernet Sauvignon.  The flavors are quite passable, and for a plane it could certainly be worse. Given there's no other selection while in air, this is a must try if you're on flight and dying for a red wine.  On the ground though, this may get beat out by other wines in the same price range.
A side note, it's not entirely clear how Delta picks their wines for plane flights, this selection may not be available on all flights.
Verdict: Smooth, Earthy, Dull, Muddled
Price: $7 [free for first class]
California
http://www.canyonroadwinery.com
Delta Air Lines