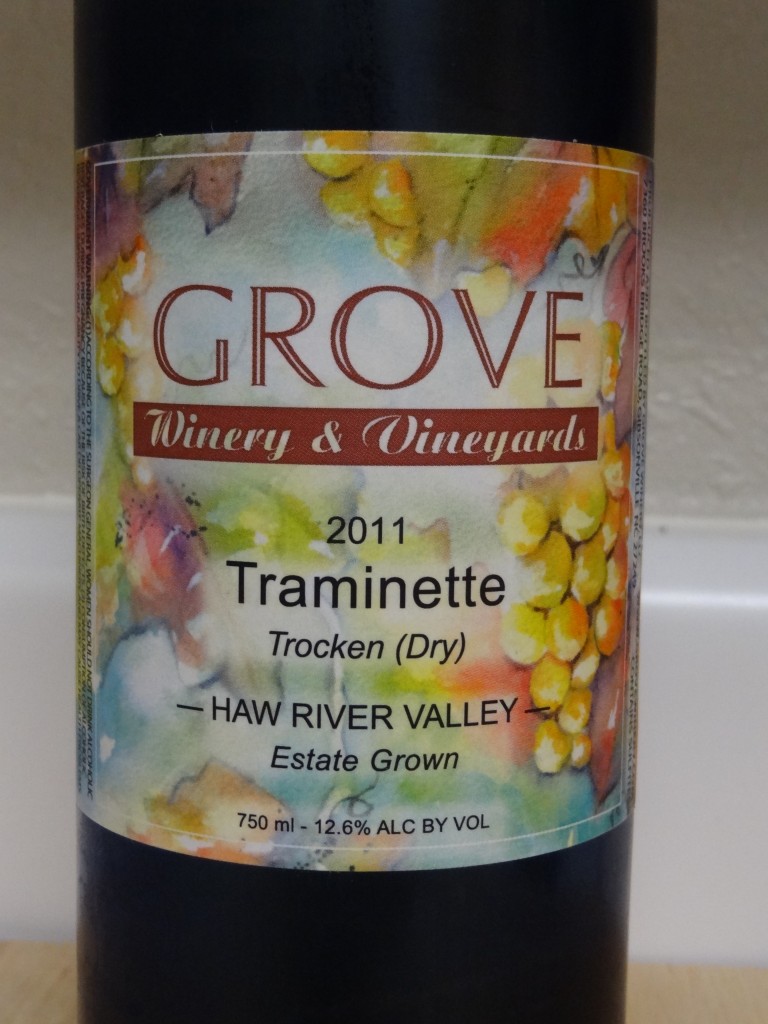 Traminette is one of those hybrid grapes that is really the search for something else leading to an interesting wine producing varietal.    Essentially, traminette was supposed to be a table grape that tasted like gewürztraminer, but as fate would have it, traminette is actually pretty good for vinifying.  As it turns out, this is due to the hardy nature, disease resistance, and good yields it regularly produces.  Can 2011 Grove Winery Traminette continue North Carolina's winning wine ways, or are you better off red. [Please note, this is a review of the Trocken (or dry) not the Halbtrocken (or off-dry)].
Sight:  A light gold.
Smell:  Bright citrus, starfruit, gooseberry, and pear compliment lychee.  The background has a touch of a machine oil smell.
Sip:  Light body with touches of minerality, complimenting lychees and floral notes. In addition to some honeysuckle and apricots, it's very dry. [A.B.V. 12.6%]
Savor:  While it dissipates quick, it has minor elements of lychees and honeysuckle.
2011 Grove Winery Traminette is an interesting alternative to gewürztraminer.   Packing in plenty of floral and fruit qualities with decent minerality, it manages to be balanced and lively.  It also should hold up well with turkey due to its close relationship to gewürztraminer.  While 2011 Grove Winery Traminette's price point is a bit outside of what we normally look at, but in terms of buying local, folks in North Carolina might want to consider this.
Verdict: Floral, Lychees, Minerality Light
Price:  $14.99
Guilford County, North Carolina
http://grovewinery.com/