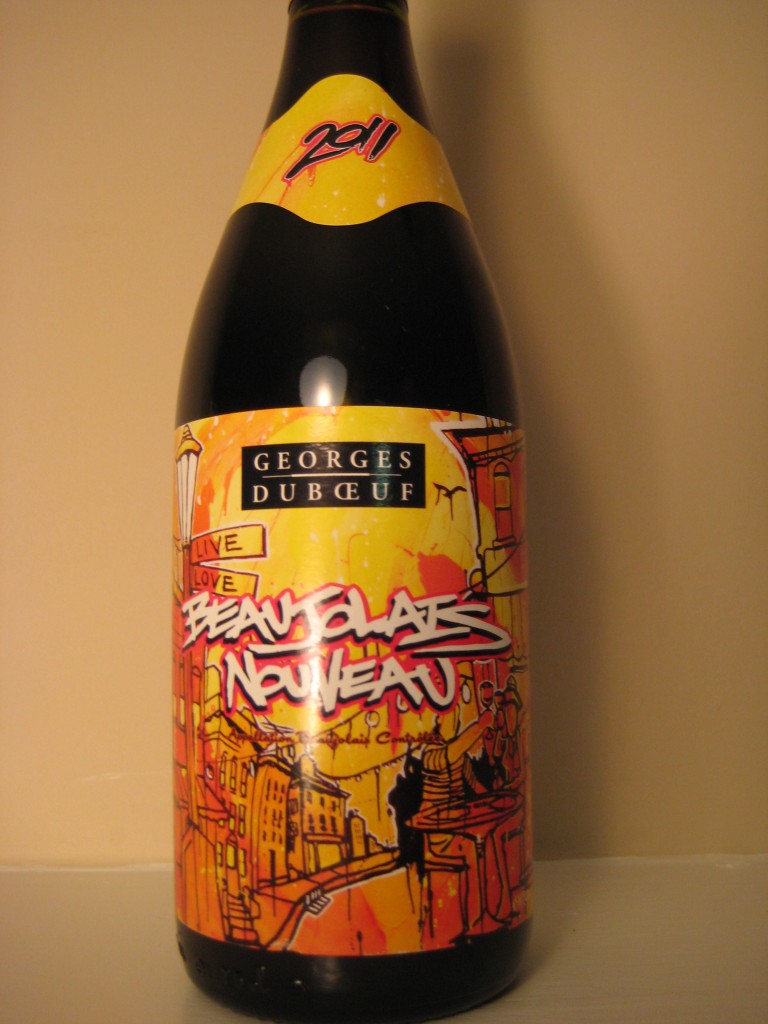 About a week ago it was Beaujolais day.  This was probably fueled by the fact that the new vintage was released, and a 'get it while it's young' mentality that revolves around Beaujolais and those that love it.  There's nothing wrong with Beaujolais, in fact Gamay is a varietal that probably doesn't get enough love, but in November I can really only think of one fantastic use for all that fresh Beaujolais.  The day after Thanksgiving.
Can 2011 Georges Duboeuf Beaujolais Nouveau hold Beaujolais' reputation as a perfect picnic partner when it comes to cold turkey the day after the feast?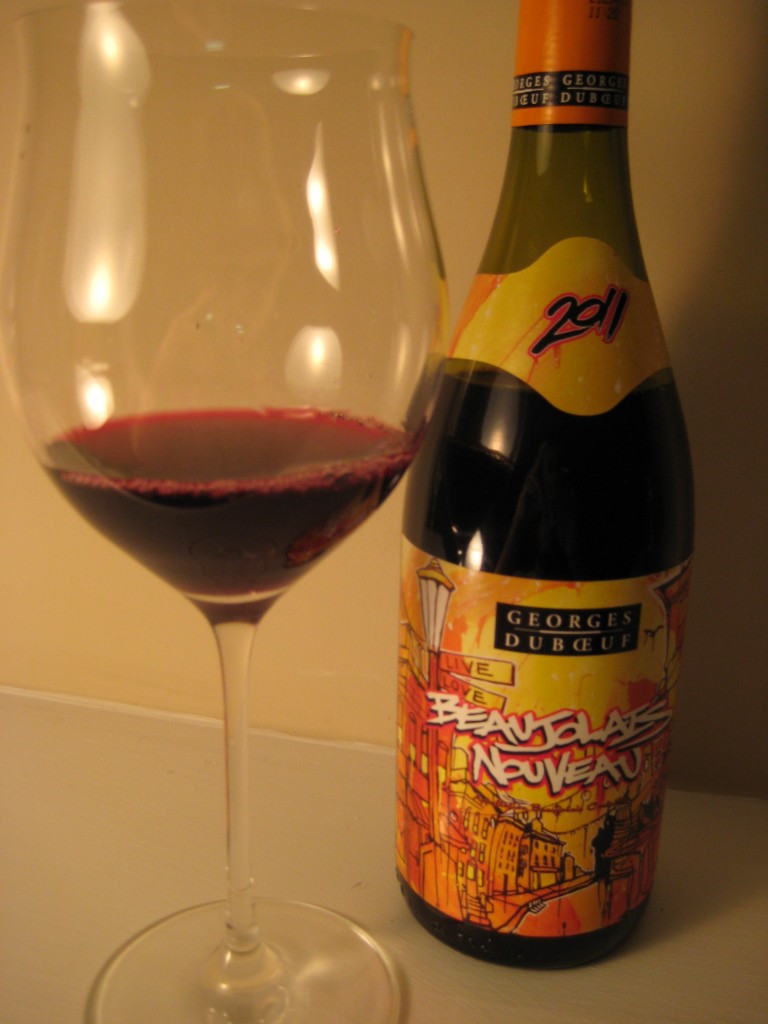 Sight:  This wine is so young.  Gamay is not aged in contact with the skins for long, and it shows with an extremely transparent magenta body.
Smell:  There's a certain smell that only Beaujolais can give off.  It's that almost old french world meets black cherry melted jello smell.  In this case it picks up a lot more strawberry than cherry, but the black cherry plays a large role, and raspberries are on back-up.
Sip:  Light, bright, young, and crisp, this wine feels every bit of it's age (or lack thereof).   There's plenty of strawberry and black cherry, with subtle hints of raspberry and lightly earthy rock.  The ending is slightly green, and this wine might be better after another few weeks in the bottle.   [A.B.V. 12.5%]
Savor:  The flavor lingers but turns more into a raspberry coulis with a bunch of cherry notes.  The finish doesn't last that long, and it's moderately tannic, more so than would seem expected.
Overall, 2011 Georges Duboeuf Beaujolais Nouveau is a smash for the day after Thanksgiving.  Beaujolais always seems like a summer wine, meant for picnics with cold cuts and salads, but that doesn't mean it's lightly fruit, bright flavor is only good in the summer.  The day after Thanksgiving, this wine could be perfect for a cold turkey sandwich, and the left over green beans.  Pick up a bottle and let the freshness resonate with the richness of the turkey.
Happy Thanksgiving all!
[And to those not in the U.S. Happy Thursday!]
Verdict:  Winter picnic
Price: $8.99
Appellation Beaujolais Contrôlée, France
http://www.duboeuf.com/