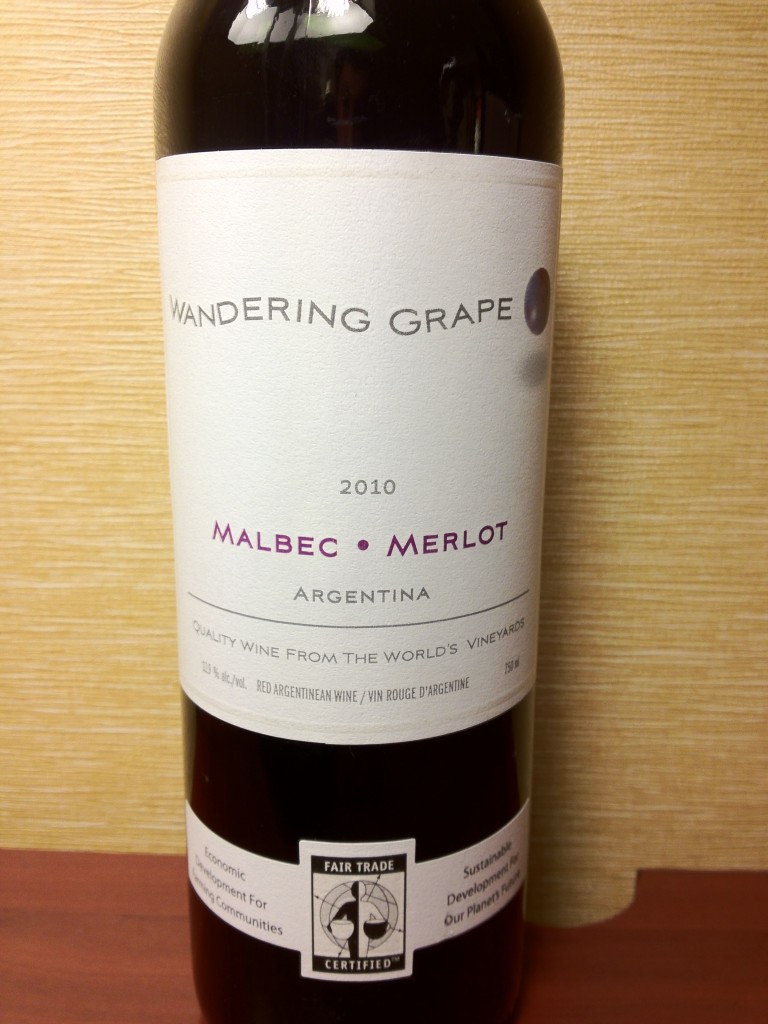 Sustainability and eco-friendly wines have been on the rise for a while, and have demonstrated an ability to be quality players in the scene.  That being said, 2010 Wandering Grape Malbec Merlot is one of the first Fair Trade wines that's been on the site.  For whatever reason, this gave the marketing department the thought process that the wine should introduce itself on the back label and explain that why it was fair trade.  This marks another first, the first time a wine has ever explained a business practice related to improving the lives of vineyard workers. This sounds lovely and all. but it leaves me with two very important questions.
Have already consumed enough through hold the bottle that the grapes are talking to me about psuedo-moral business practices?
Does it taste any good?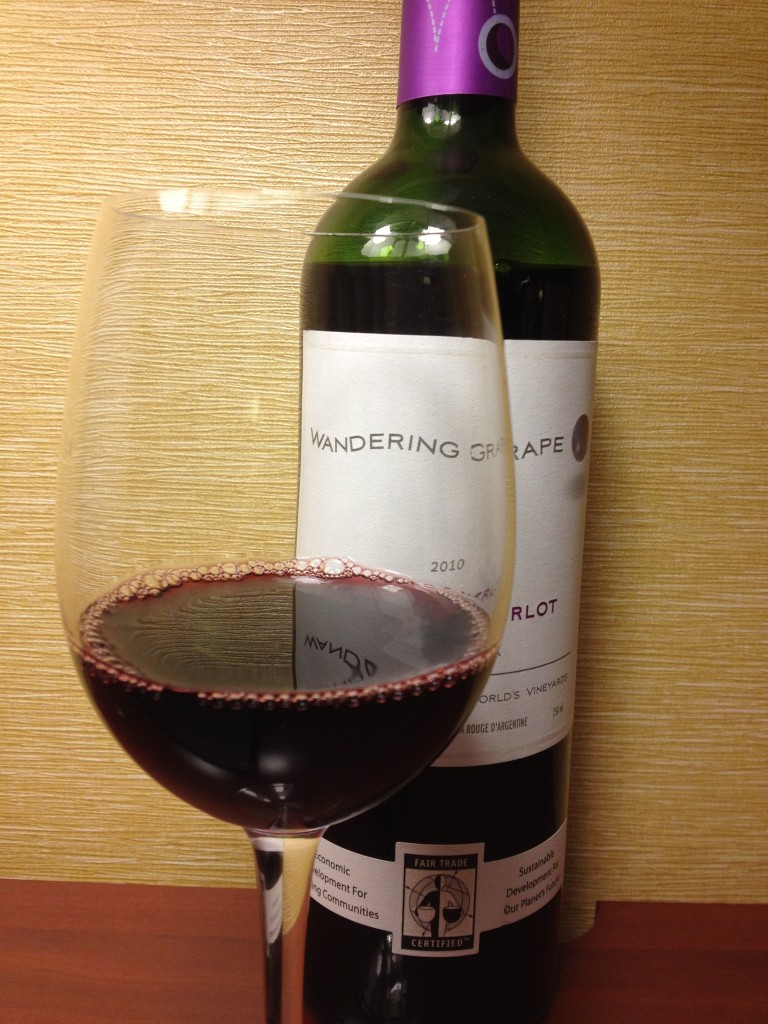 Sight:  It's a purple color core, but radiates the edges skew brick brown to red brick by the edge  Looks older than 2, but still quite bright
Smell:  There's a deep black plum smell, with a bit of smoke and chocolate in the background.  There's some black cherry in there as well.
Sip:  There's very soft mouth feel, that's almost a little thick.  The tannins are mild, but present, and the acidity feels more at home with a chianti than a Merlot or Malbec.  It's a bit sharp somehow.   The inky blackness of plum skins leads with a similar quality of bittersweet nature.  There are hints of chocolate and  a subtle earthy influence skewing toward fresh soil after a rain storm. [12.9% A.B.V.]
Savor:  The black plum skin, touches of smoke, and light tannins linger tangibly, almost begging for food.
Overall,  2010 Wandering Grape Malbec Merlot is punchy and demonstrates extremely clean, crisp flavor, but isn't the most complex wine. It's by no means bad, and has a pleasant plum flavor, balanced oak, and good potential for food pairing.  A touch less acidity would help, but will balance with a meal. One last note, Wandering Grape leaves me with a slightly unsettling description of itself and how it tastes, before urging me to enjoy it…
Verdict: Anthropomorphism Gone Awry
Price:  $8.99
Blend: 65% Malbec – 35% Merlot
Mendoza, Argentina
http://www.wanderinggrapewines.com/