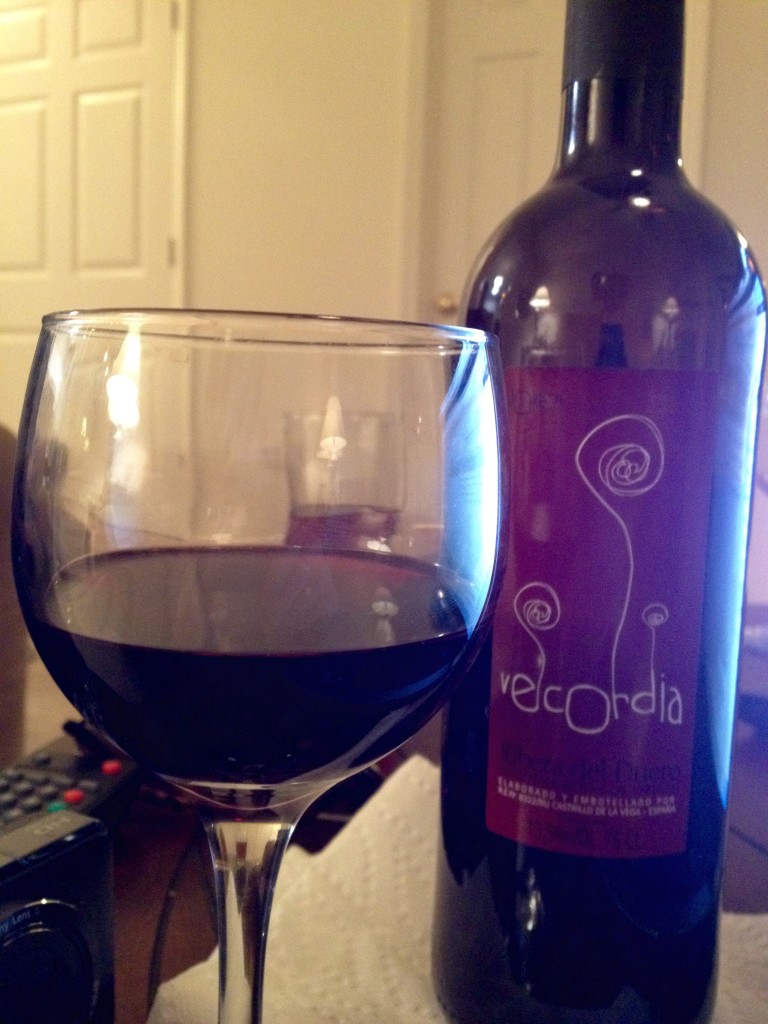 2010 Vecordia Joven was one of the representatives for Ribera Del Duero in our video cast on Spain.   Younger than a Crianza, and with less oak aging, 2010 Vecordia Joven offers a perspective in Ribera del Duero that is primarily left to the locals of the region.  By no means are Joven common either.  While typically left to mellow in oak, 2010 Vecordia Joven is set to burst out singing with crazy fruit flavor.  Can it deliver on the promise of youth, or does it lack the maturity required to be great?  
Sight:  A deep magenta core, hot pink edges.
Smell:  Blueberries, boysenberries, and blackberries oh my!  There's a ton of black fruit in here.   Berry overwhelming, including strawberry and raspberry notes.  They're a bit to the jammy side.
Sip:  The start is mellow, smooth almost, but tannins build.  The mouth feel is pleasantly moderate, and not overly acidic.  Fruit flavors are predominate and skew mainly towards slightly unripe blackberries, blueberries, and light currant.
Savor: The blackberry take off, fading quickly being overwhelmed by tannins.  The tannins never get too over the top, but they're still a bit more than moderate.  They last for quite some time, getting a little more spicy.
2010 Vecordia Joven acts its age, being both very forth right, and a bit temperamental.  While the black fruit flavors are stunning, the tannins do their part to be equally stunning.  While the experience is interesting, it's not entirely satisfying.  If you're a fan of big California fruit bombs, but want more tannin, then 2010 Vecordia Joven is worth a try, but those sensitive to tannin may want to pass.
Verdict: Tannin, Blackberries, Boysenberry, Jam
Price: $9.99
Ribera Del Duero, Spain
For more information on Ribera Del Duero, Spain or to watch the video, check out the episode.