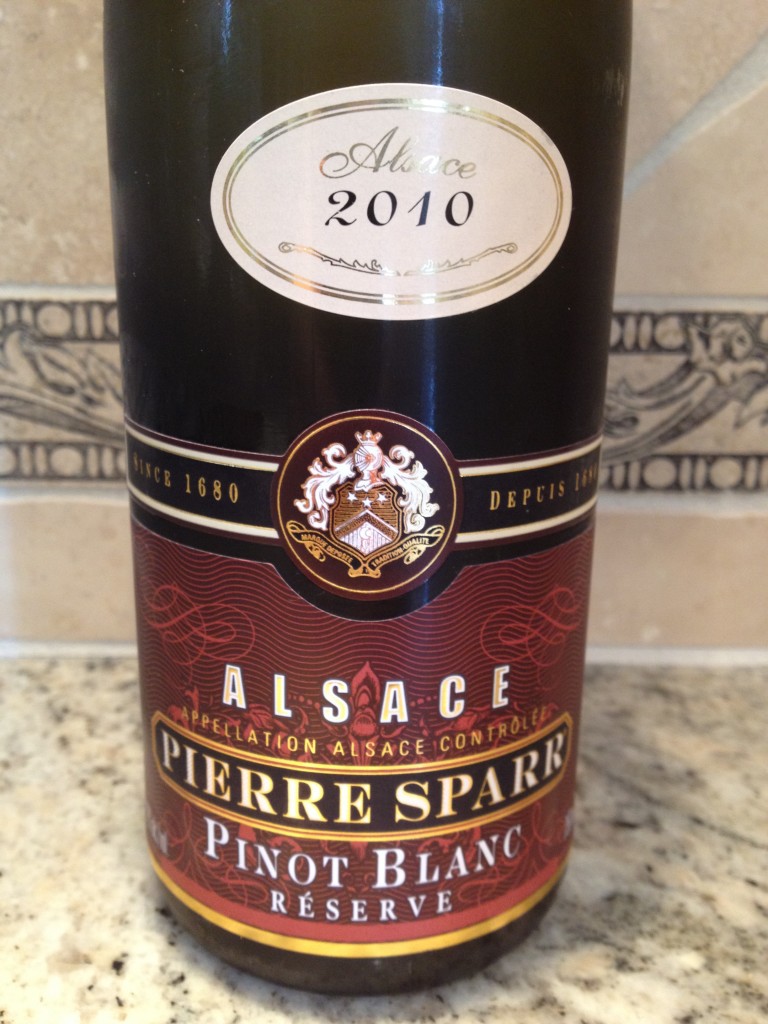 Hailing from Alsace, Pinot Blanc is well know for being a very neutral grape.  It conveys mild stone fruit, pear, and minerality.  With significant ripening time, good growths shine in the right vineyards, producing clean whites with good acid.  Most of the time however, Pinot Blanc is one of the work horses of Alsace, being blended.  With that in mind, 2010 Pierre Sparr Pinot Blanc Reserve has put it on the forefront.  Can it make this Clydesdale shine, or is it off to the glue factory?  
Sight:  A dark lemon like gold, right to the edge.
Smell:  White pepper and peaches, with flecks of pear, touches of wet stones, and a lightly floral aspect reminiscent of violets. There's a vaguely flat and dusty smell.
Sip:  There's no real sweetness, but a bright burst of acidity.  There's plenty of white pepper, nectarines, and lemon.  With a moderate mouth feel, it's not overly complex, but it has plenty of refreshing qualities that keep it easy going.  [A.B.V. 12%]
Savor:  There's a citrusy minerality that carries though the finish, it's short lived, but pleasant.
2010 Pierre Sparr Pinot Blanc Reserve is refreshing, straight forward, and a bit old school.  The wine isn't very fruit forward, but the acidity and mineral driven nature keeps it interesting. The acidity is brilliant and beautiful, calling out of food.  It's an ideal pairing for shellfish or white fish, and might also go well with poultry.
Verdict:  Elegant and understated.
Price: $9.95
Alsace, France (Appellation Alsace Contrôlee, AAC)