Albariño is one of those varietals that spent years being produced in massive quantities for locals, and never really showing the refinement it was capable of.  Thanks to the 1980's that all changed, and regions in Spain, such as Rias Baixas, became capable of using stainless steel temperature control wine making tech to make this grape sing.  What a song Albariño can sing, crisp, clear, refreshing, and with a load of tropical fruit, this grape is a stellar white from the Spanish.  Does 2010 Burgáns Albariño show the best use of tech, or is this wine still stuck in the past?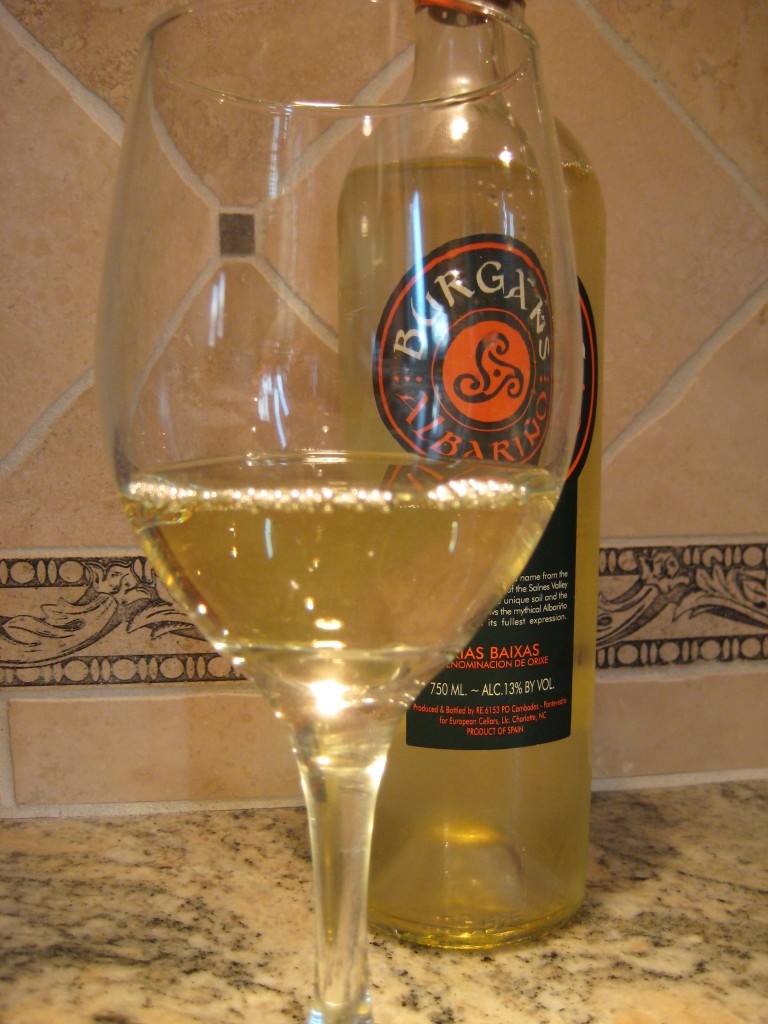 Sight:  Lightly gold with a minor tinge of green.
Smell:  There's something almost sea spray that hits the nose on first whiff.   The predominate smells are lemon, kiwi, and peach.  There's a strong background of minerality that brings out a sense of earthiness by the sea.   A bit of papaya interjects as well.
Sip:  The minerality is palpable, but there's a lot of kiwi and lemon.  There's plenty of papaya, orange, and guava, with quite a bit of pith.   The natural dryness and acidity makes the wine very food friendly, and the mouth feel is light and bouncy. [A.B.V. 13%]
Savor:  Plenty of kiwi and papaya linger, there's a natural lemon pith and minerality that seeks food.
Overall, 2010 Burgáns Albariño desires food, almost screaming for fresh shellfish.  There's a great sort of tropicality that pervades through, with a lot of wet salty, stone.   This combination gives a lot of depth, and makes a great pairing for seafood and poultry. Food will bring out more sweetness and emphasize the tropical flavors.
Verdict:  Kiwi whip
Price: $11.99
Rias Biaxas, Spain D.O.
http://www.martincodax.com
It's interesting that this wine also comes from Martin Codax, who is responsible for one of the best selling Albariño in the U.S. This wine supposedly hails from a sub-area, and seems as though perhaps is trying to differentiate as a better wine. If anyone has more info on this, we'd love to hear from you! Cheers!