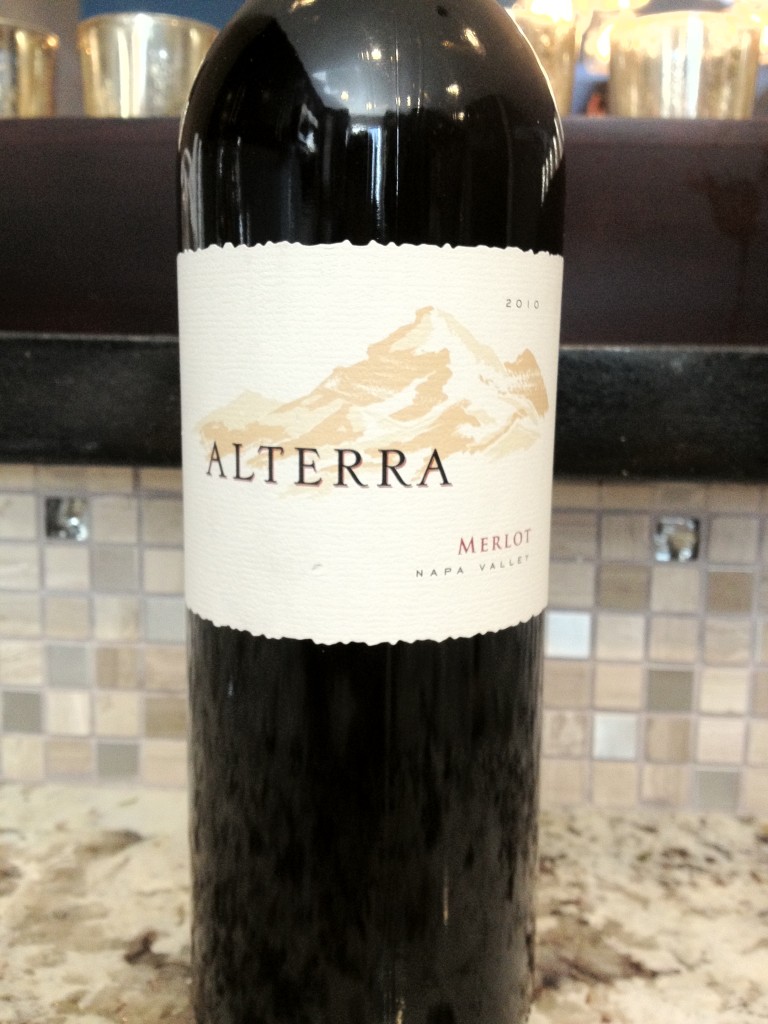 Welcome to the fifth of six tastings, Merlot, for a back to wine basics series.  Merlot is something of the middle child between Pinot Noir and Cabernet Sauvignon.  While not necessarily a perfect moderate, it does offer something of a balance, producing full bodied, low tannin wines that typically channel flavors of plum, bitter chocolate, and tea leaves.    Merlot can run the gambit of wines, producing everything from inexpensive quaffers to serious, world class contenders.  It is sometimes favored over bigger wines like Cabernet Sauvignon due to it's lower tannin level (which is also sometimes why the two are blended).  While the best hail from Bordeaux in France, Napa in California, and Washington, there are also interesting, sleek Merlots being produced in New York's Long Island region, and good value for money from South America.
With that it mind, it only seemed appropriate to pick up a contender from Napa, and see what Merlot can do.  To represent, 2010 Alterra Merlot will take the reins.  Will it hold on to win a spot as the recommended tasting wine for those new to wine our back to wine basics series, or will it get bucked off.  
Sight:  A moderate red, on the duller purple scale, but nice bright pink edges.
Smell:  Black cherries and plums mingle, moving slightly toward prune.  The smell is a bit hot.  There's a touch of black pepper, dust, and a hint of cocoa powder.
Savor:  A subtle sweetness leads, and is persistent through out.  It's a bit on the light side for the alcohol.  A brambly berry leads off, but gets wrapped in plum and prune.  There is a slight mocha flavor as well. [A.B.V. 13%]
Sip:  Rather sweet on the finish for a merlot,  a light cherry jello end with a minor game note.  It drops off rather quickly.
2010 Alterra Merlot leans sweet for a Merlot.  While the base flavors are accurate for a merlot, there's a sweetness that just makes the experience a little odd.  There's also a bit of a stemmy nature, but nothing out of place for merlot.  The mocha is a nice touch, but the whole experience is just a bit neutral, and with a body on the lighter side, slightly underwhelming.  Beginners who have a palate more to the sweet side might enjoy this, but for dry merlot drinkers, this wine might be a tepid choice.
Verdict: Sweet plums
Napa, Merlot
Price: $9.99