For the end of April, we have on a bottle of 2010 Malbec from Mendoza.  Being one of the best regions in Argentina, Mendoza sports some of the best Malbec in the world.  In essence, Malbec has usurped it's French ancestry in Bordeaux to become even better than ever.
Alamos is a fairly well established winery with exports to the United States in fairly large quantities.  Their wines can be a very good deal for the money, especially the Malbec, evoking wonderful flavors of toast, cherry, and currants.  So, how does the 2010 do?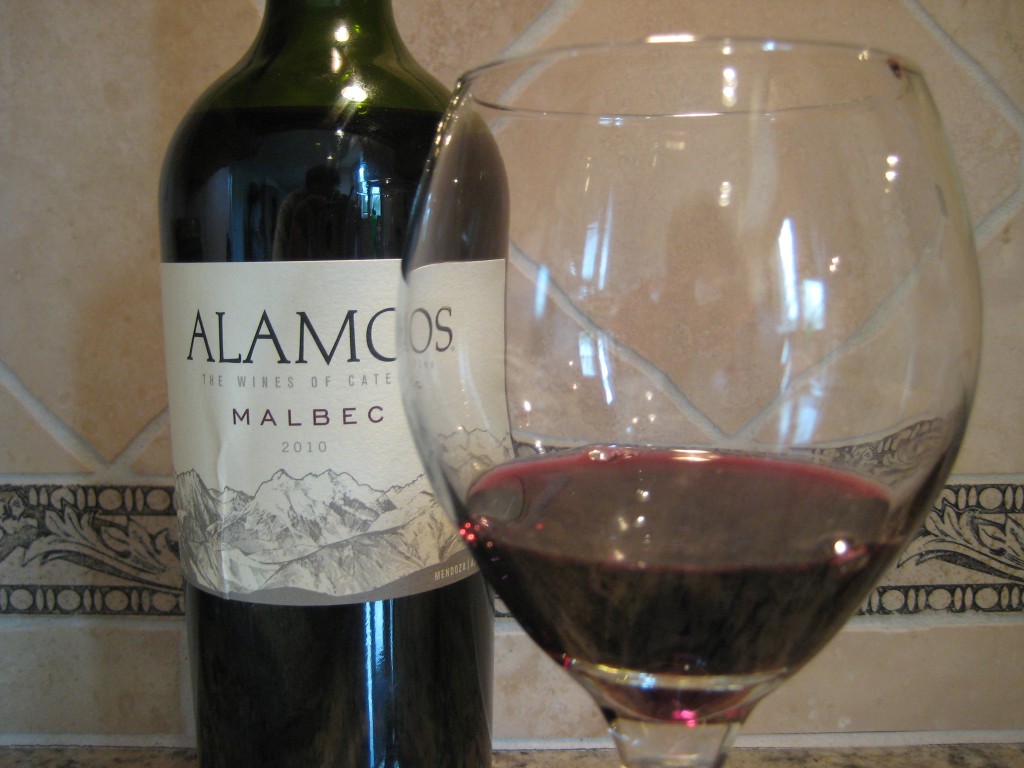 Sight: Bright magenta edges, almost hot pink.  The center of the wine rather light.
Smell: Cumin, pepper, and  chili powder all jump out immediately, as though someone threw the spice cabinet in.  The smell is slightly hot with some raspberry and tomato, a touch of artificial berry, and a sprinkling of wood and smoke.
Sip: The wine feels slightly watery and light, not at all the expectation.  The tannins are moderate, but the wine is almost white wine acidic.  The taste is a bit non-descript, with strawberries, cranberries, pepper, and a touch of dust.  Somehow the alcohol seems hot. [13.8% ABV]
Savor: Wood finishes the wine off, a mix of cedar and sawdust.  The flavor disappears relatively quickly.
While the wine gets slightly better with food, it still is just underwhelming.  The problem really lies with the fact this wine needs a little bit more time to set up.  It will never be a great bottle, but with age, it will mellow out, and more fruit will start to show up, possibly with a slightly jammy quality.  Don't buy the 2010 yet, it should get better, look for an older vintage, and drink this in a year or two.
Price: $7.95
http://www.alamoswines.com/en/
Mendoza, Argentina
(887) 798-2783