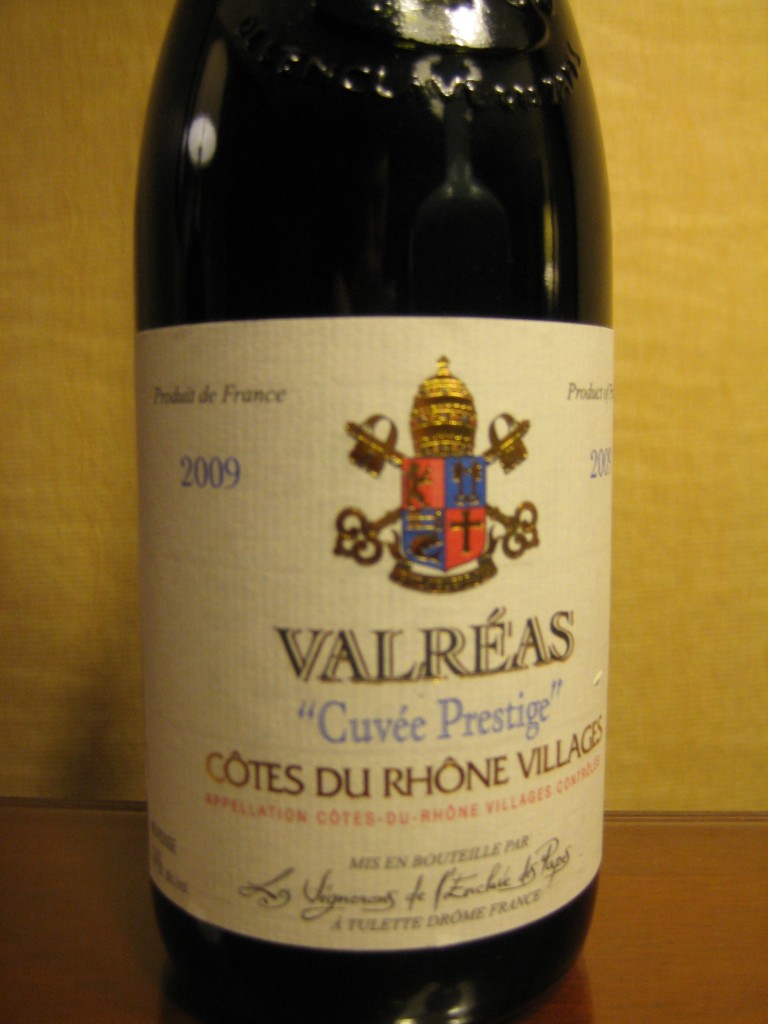 The French have a history of making terroir driven wines.  More earthy herbs and farm than fruit, these wines have had a tendency of alienating the American palate.  Fortunately, grenache tends to be a very fruit forward grape, and given the the Appelation Côtes-Du-Rhône Villages Contrôlée have a minimum requirement of 50% grenache, this is a good sign for  most Americans.  In this case, Valréas "Cuvée Prestige" is 75% grenache, and 25% syrah, so this wine should have a fruity spicy punch.  Will it pack a flavor punch, or will it be all alcohol?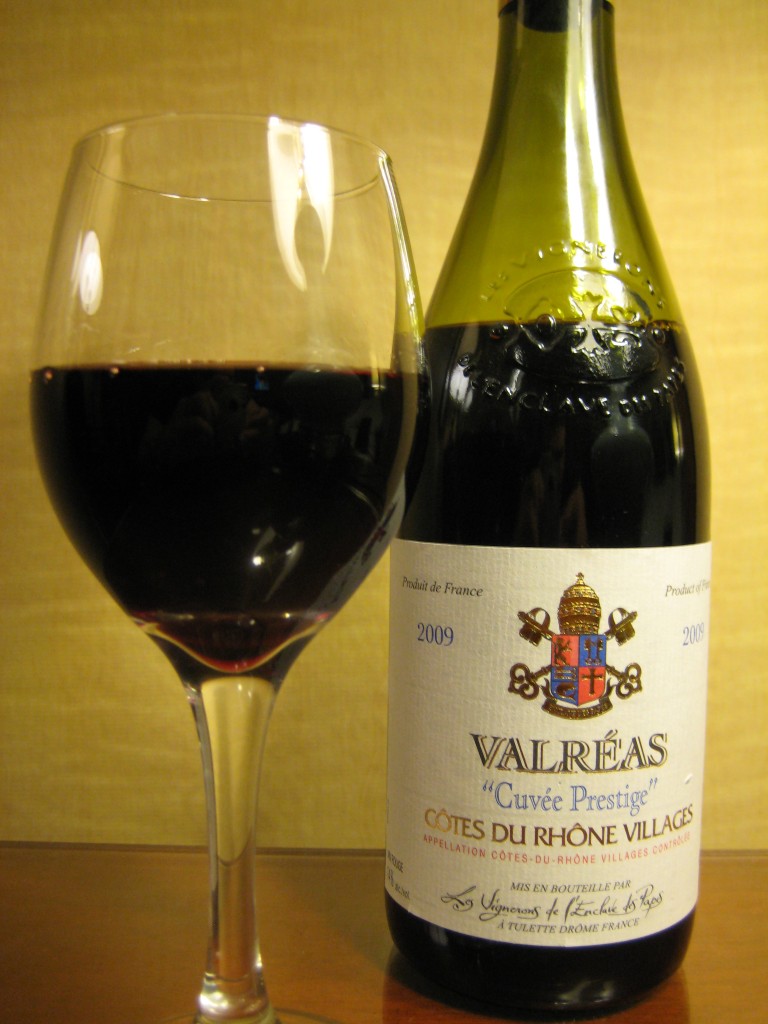 Sight:  This wine is good and dark, almost an inky purple black with a watery edge.
Smell:  Black cherry melted jello, strawberry jam, and the first cherries of the summer lead the way.  Slight prune and raspberry liquor echo behind the main cherry smell.  Something, possibly cranberry, is lingering insidiously behind the sweet smells.
Sip:  The lurking sour fruit comes forward at the first sip, and is followed by a thick mouth feel, and a powerful set of tannins.  There's a lot of hidden dry spices behind the dark cherries this wine presents.  Things like nutmeg and clove play strong parts with a slight touch of pepper. The wine is redolent of plum skin throughout the experience.  It's the very slightest touch hot.  [A.B.V. 14%]
Savor:  There's a flavor somewhere here, but it's been hit with a tidal wave of tannins.  It might be cranberry black cherry, but this wine is so tannic, that if you swish it around your mouth, it's like to feel as though you just had Novocaine across the better part of your lips, cheeks and gums.
Overall, this is by far, without any doubt, the most tannic wine that has been sampled so far.  It's almost as though the grower said, "Hey, what we should do is throw the stems, the grape skins, and a bit of the neighbors stems and grape skins in the vat with it, what's the worst that can happen?"  Well, as it turns out, it's similar to going to the dentist and getting novocaine, but with one minor twist.  This could be one of the best wines to enjoy with fatty meats or perhaps chocolate.
At one point, I will admit, I accidentally choked on this wine, and to be honest, there is a predominate flavor.  If you've ever had a spiced fruit tea, like plum and passionfruit with cinnamon and sugar and nutmeg, that is what this wine most strongly evokes.  It does it with a whack of alcohol, and the mouth drying power of a vacuum that can only be equated to sucking an alien off the emergency escape pod into space.
Definitely worth a try for pairing with certain foods (and perhaps an amazing pairing for duck, fattier cuts of beef, and chevre), but don't bother drinking it on it's own.
Price: $8.49 [Trader Joe's Exclusive?]
Côtes-Du-Rhône Villages, France
AOC: France