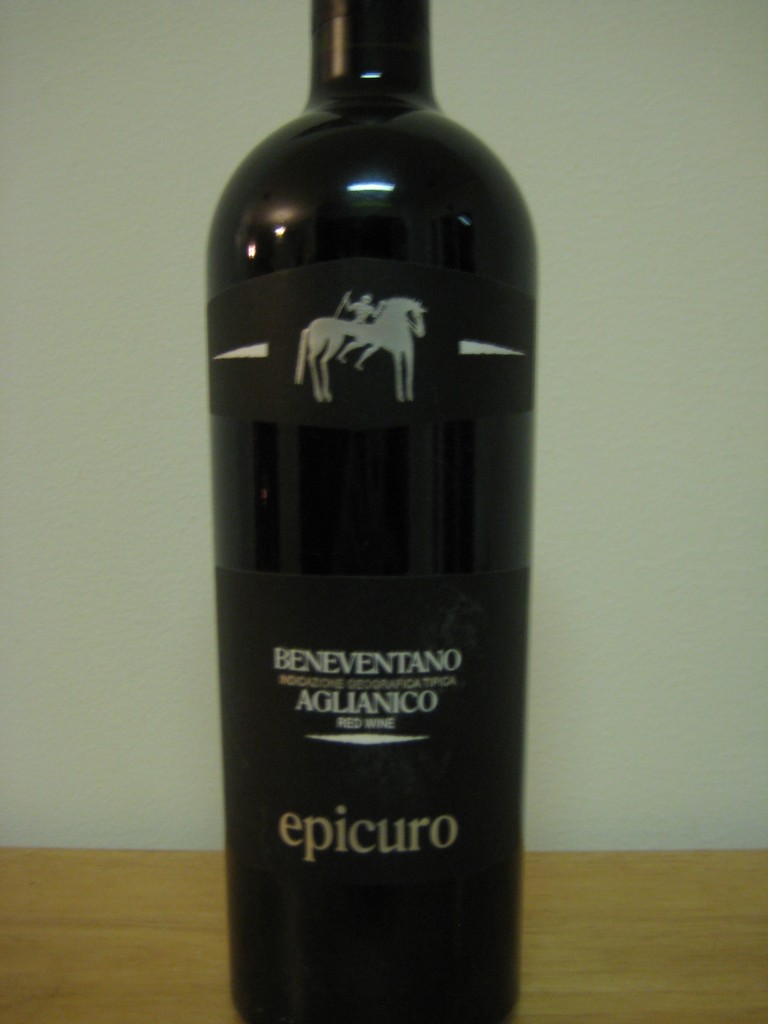 The Italians have always been known for making rather interesting wines.  One of the more interesting and lesser known grapes that has contributed to this over the years is Aglianico.  Hailing from southern Italy, this black grape has strong tannins and acidity, and is a likely candidate for aging.  While it is best known for it's ability to make Taurasi, a nearly black wine with strong bitter chocolate, leather, and tar characteristics, it appears that some producers might be starting to branch out. Does 2009 Epicuro Aglianico live up to the legend, or is it too modern? 
Sight:  Deep purple core, magenta edges with a hint of brick.
Smell:  There's a distinctly Italian smell to this wine.  There's a wonderful way that it wraps the nose in black cherries, plums, and blackberries.  There's a light oaky smell, but the predominate fruit flavors.
Sip:  The acid and tannins in this wine are quite firm, but not overly so.  They add a certain amount of depth and terroir to the wine.  The chew is quite firm though.  There's a lot of black pepper and black plum skin.  There's a smokey oaky tendency that burns through vividly with a whack of cherry and blackberry jam.  Anise and clove laces through the background, with a mild amount of cedar and earthiness.   A complex and interesting flavor that evolves throughout the glass.  [A.B.V. 13.5%]
Savor:  The tannins leap in, but the terroir and plum skin take over.  There's a deep, dark pepper and black fruit depth that occurs.  It's not the longest finish, but it's wonderful way of continuing.
Overall, 2009 Epicuro Aglianico is surprisingly deep and fruit forward.  While most of the characteristic of a Taurasi are not present, the wine manages to take a very modern riff on what an Aglianico could represent.  While this wine is no means perfect, it shows tremendous opportunity, and manages to develops some amazingly deep and complex flavors the short time it has been around.  This wine is definitely worth buying a half a case or full case of, and keeping around, if merely to see how it might improve over the next year or two.
Verdict:  An angel of the dark
Price: $6.99
Beneventano, Italy
http://www.daquino.com/
[Trader Joe's Exclusive]