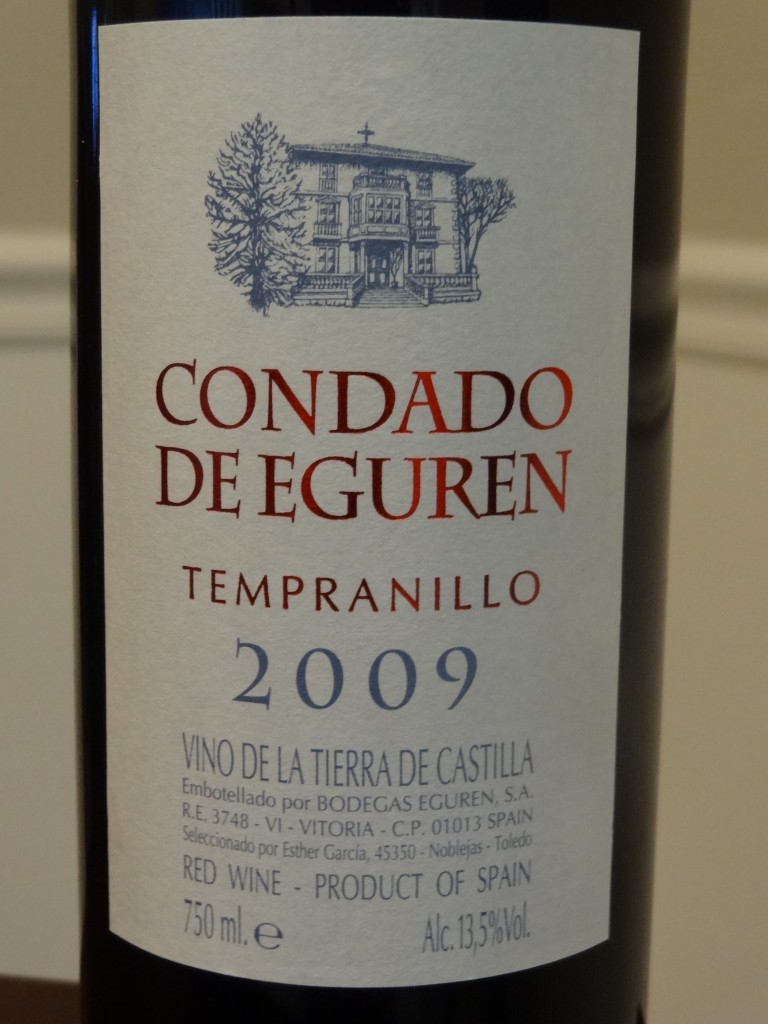 Hailing from Castilla Spain, Condado De Eguren comes out of Spain's heart land near Madrid.  While not necessarily Rioja or Ribera del Duero, this region can also make very good wines at reasonable costs.  Can 2009 Condado De Eguren Tempranillo plant a flag, or should you just venture north?  
Sight:  A beautiful ruby core with magenta edges.
Smell:  There's a concentrated smell of blackberry, blueberry, black plum, sandalwood, and light spice.
Sip:  There's a touch of sweetness that leads off.  It recedes and is followed by boysenberry, plum skin, blackberry, and growing spices.  As the soak time grows, the flavors transition, building flavors of black olive, chai, and toasted tobacco.  The mouth feel is moderate to heavy, and relatively lively. [A.B.V. 13.5%]
Savor:  The tannins are very powerful, and the sandalwood and black plum skin.  It lingers for a while, being significantly mouth drying.
2009 Condado De Eguren Tempranillo is full of blackfruit and plenty of wood.  The overall effect is a bit more spicy and full of unusual fruit flavors.  The overall effect isn't that great, but it does show a potential of the soil to influence flavors in this region.  For heavy dark flavors, give it a try, all others should move on.
Verdict:  Dark, Thick, Woodsy, Tea
Price: $9.99
Castilla, Spain