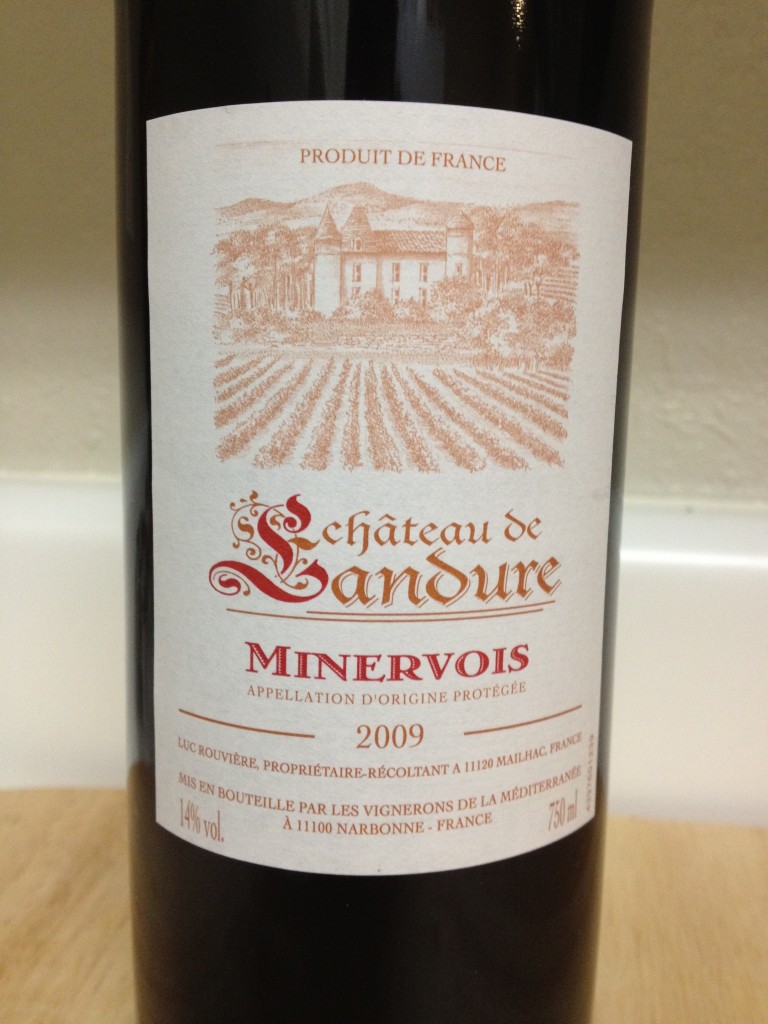 Minervois is not necessarily a wine region that's on the tip of most people's tongue.  Located in the massive wine region Languedoc-Roussillon, Minervois produces everything from soft and juicy, easy going wines to outrageous blends, which can explode with concentrated blackberries and minerality.  Thanks to it's lesser known status, this region also produces very reasonably priced wines.  So with great excitement, I picked up a bottle of 2009 Château de Landure Minervois. 
The odor hit my nostrils like a ton of bricks. Balsamic vinegar. Oh no, the wine's gone off.  In an instant, excitement for what should be great Languedoc blend goes out the window, and the quest to locate the receipt begins.  Such was the first go round with 2009 Château de Landure Minervois.  Thankfully, there was more in stock, and now on to the replacement bottle.  How does it fare?
Sight:  A deep red-purple core that moves toward brick, and then finally watery orangy around the edges.
Smell:  Violets, blackberries, and light cherries all mingle together.  There's a nice perfumé kind of vanilla and dates that hangs around it.
Sip:  The brightness leads off combining raisins, stewed blackberries, and dark chocolate with a decent background of minerality and floral notes.  Overall, the mouth feel is fairly light, possibly leaning towards moderate, but being surprisingly tannic, it feels heavier towards the end.  It's also a touch warm. [A.B.V. 14%]
Savor:  The dark chocolate and blackberry continue, more subdued, and the tannins build, and fade quickly.  The aftertaste becomes less bitter as it fades.
2009 Château de Landure Minervois is the kind of wine that begs for food.  The balance between fruit and earth is good, and the heavy increase in tannins would pair well with many grilled meats.  Perhaps the biggest difficulty it has is overcoming the weight of the alcohol it wields, which on occasion leaves it smelling and tasting a bit warm.  For the price it's an enjoyable sort of preserved fruit romp, but not necessarily a drink it on-its-own sort of deal.  Give 2009 Château de Landure Minervois a try if you're looking to explore what Languedoc has to offer, or for a late fall grilling session.
Verdict:  Deep, Dark, Stewed
Price: $8.99
Blend: 40% Syrah – 40% Grenache -20% Mourvèdre
Minervois, France (Appellation D'origine Protégée)
http://www.chateaulandure.fr.ht/
Looking for a second opinion?
Whine and Cheers for Wine: My Languedoc Day Choice