Sometimes winemakers have balls.  In this case, their wine label has balls.  Which would normally be a load of bull, except it is a bull.  Of course, all Spanish bulls love garnacha.  Amusing labeling aside, 2009 Beso de Vino Old Vine Garnacha scored very well, just like their Syrah – Garnacha.  Both are very well priced, and the Syrah – Garnacha is definitely a nice value.  Given that the label is charming with a great energy, and the dollars are cheap, is the wine any good.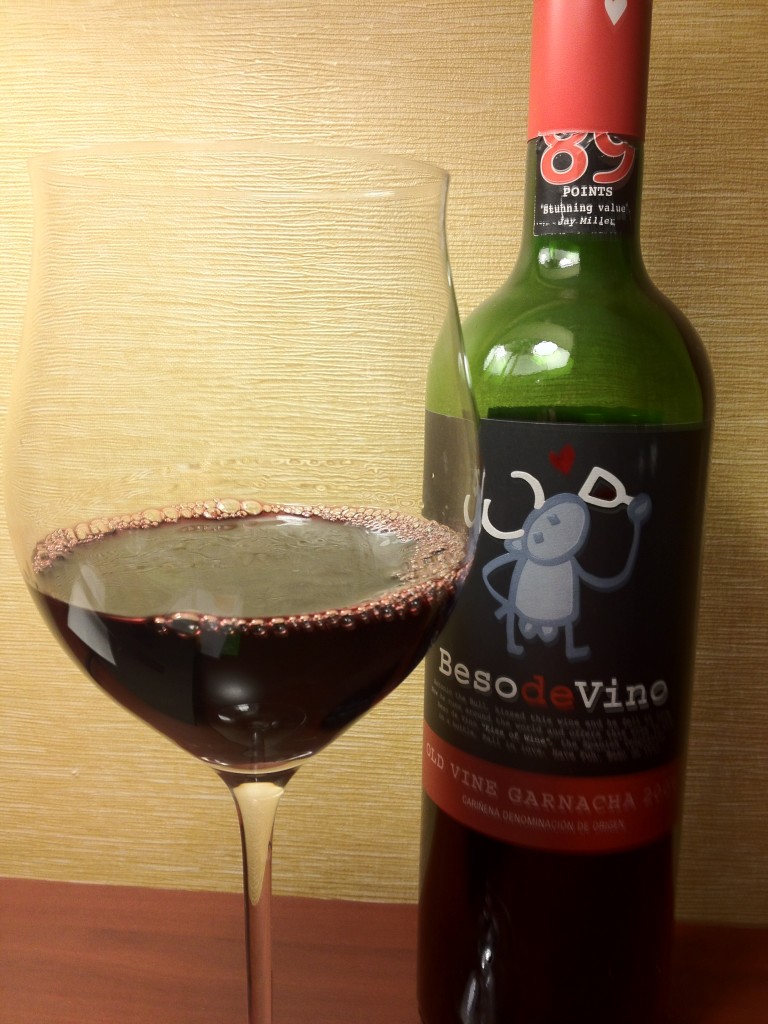 Sight: Deep purple core, firm magenta edge.
Smell:  There's a lot of  jam notes,  raspberry being predominate, but also blackberry, blueberry, and cranberry.  There's also a minor amount of mint jelly and toast.
Sip:  There's a brightness that settles down almost immediately.  The wine feels inky black and deep, there are touches of mint jelly behind a flurry of jammy berry flavors.  The flavors are clean, and well defined.  It's slightly viscous feeling on the palate, and seems a touch sweet.  [A.B.V. 13.5%]
Savor:  There's a great length to this wine, it holds its character of jammy berries, mint, and toasty flavors.  The tannins are mild throughout.
Overall, 2009 Beso de Vino Old Vine Garnacha demonstrates (with a tongue in cheek label) what an old vine garnacha can be like.  The flavors are clean cut, balanced, and wonderfully jammy in character.  It's the kind of wine that has a personality.  If new to garnacha, this is a great wine to try for the price.
Verdict:  Ballsy, but refined.
Price:  $8.99
Cariñena, Spain (Cariñena Denominación De Origen)
http://www.smswine.com/product/beso-de-vino-garnacha