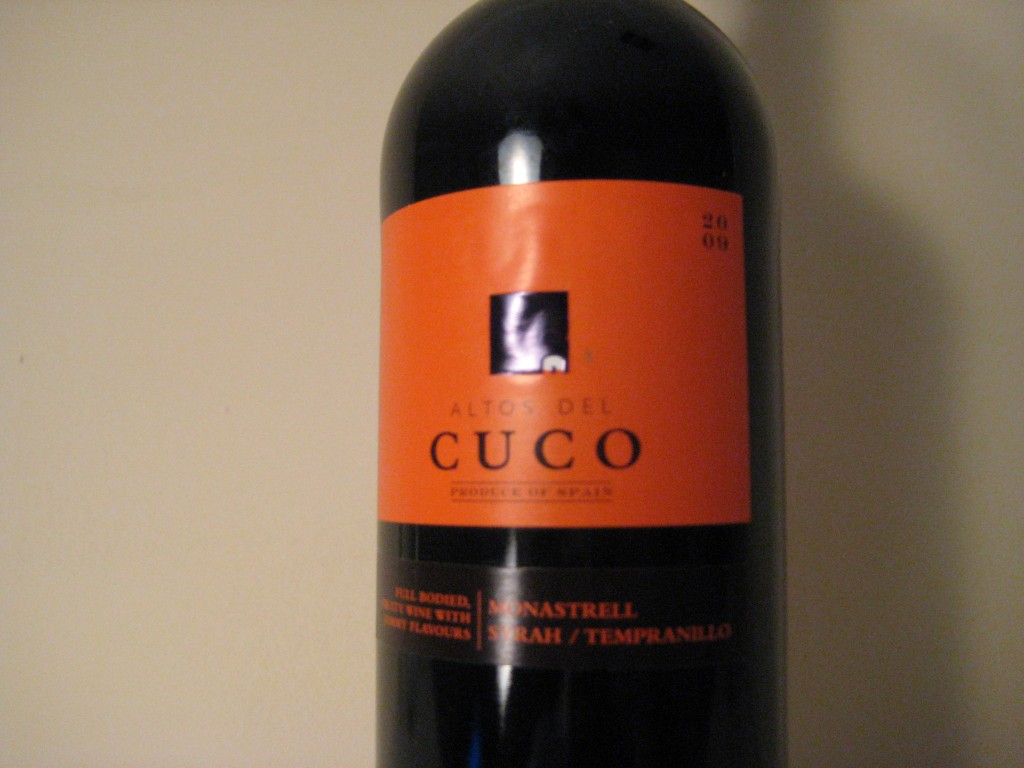 Monastrell?  I wonder what that is, it sounds sexy.
As I later found Monastrell is Mourvédre, which makes this one of the only wines I've experienced with the leading grape being the often used blending grape from Grenache – Syrah – Mourvédre.  However, it's not alone in this blend from the Jumilla region on Spain's east coast.  While Mourvédre develops structure and gamey flavors,  Syrah adds some spice, and to make the wine truly Spanish and a little zingy, Tempranillo joins the group.   2009 Altos Del Cuco is located far above sea level, but can it show the promise of this group of unique varietals, or are they just suffering from altitude sickness?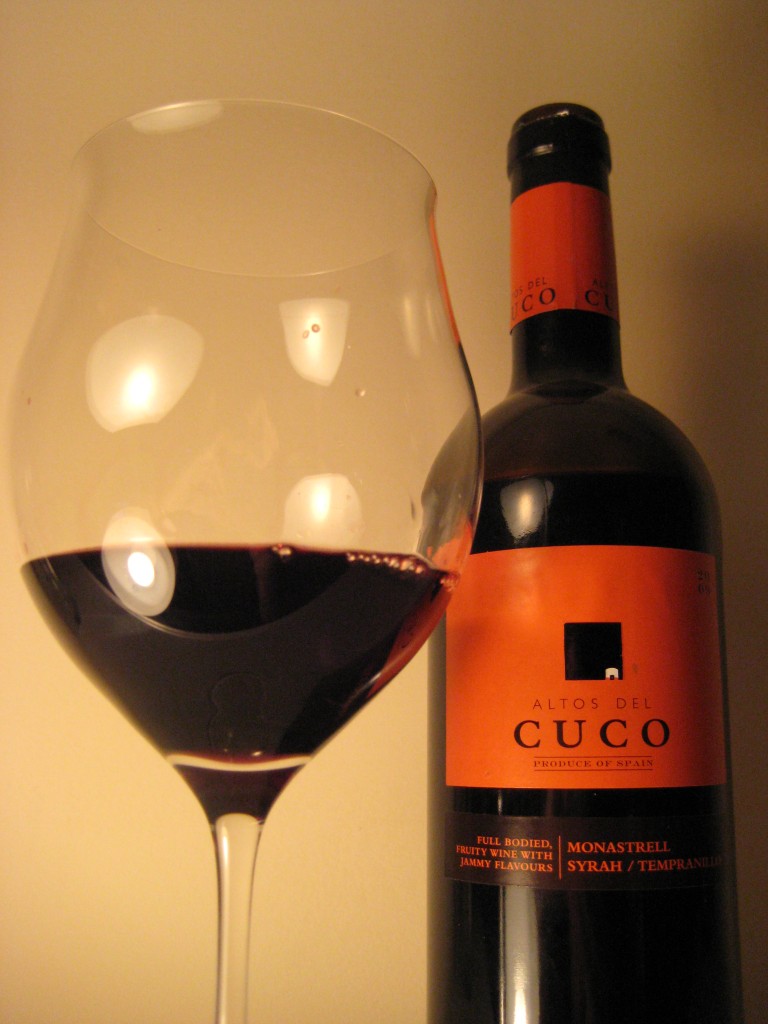 Sight:  A brickish red, rather dull.  On the lighter side of purple in it's depth
Smell:  There's a lot of big blackberry and raspberry jam flavors that smell as though they're close to fermenting.  There's also a distinctly wine soaked olive smell that runs in the background being complicated by leather, vanilla, and clove.
Sip: This wine has a nice full mouth feel without feeling heavy.  There's a decent amount of acid, but it's on the soft side, as are its tannins.   The flavor itself is giant ripe and jammy blackberries and raspberries, with notes of leather.  The wine gradual evolves into an interesting olive flavor, with a little licorice flavor [A.B.V. 14%]
Savor:  The after taste shows a tannin growth, and a continuation of the olive notes with more blackberry and increasing leather.  The finish continues for a rather good period of time.
Overall, 2009 Altos Del Cuco pulls of the trifecta of fruit, oak, and earth in spades.  There's a beautiful amount of depth from the fruit and oak, with added spice provided from Syrah.  Tempranillo keeps this wine vibrant, and Monastrell provides a great backbone.  Without a doubt this wine is worth a try for anyone who enjoys big reds, and is looking for something with a bit of twist.
Verdict: Mourvédre is sexy
Price: $7.49
D.O. Jumilla, Spain
http://opiciwines.com/wine/altos-cuco/monastrell-syrah-tempranillo/2009/