Disclaimer: This bottle was sent to us by the folks over at 585 Wine Partners, not purchased by the First Pour Wine. The opinions expressed are solely those of First Pour Wine.
Over the years the Russian River Valley has established something of a reputation for being a cooler climate in California.  This is still an area that is hotter than Burgundy by any stretch of the imagine, but it has less propensity to develop gigantic fruit bombs than other parts of California.  That being said, it might be a possibility this wine will take a large amount of it's flavor from the process in which is was made, specifically the oak used.  Can 2008 Picket Fence Pinot Noir show it's balance, or this wine a few posts short?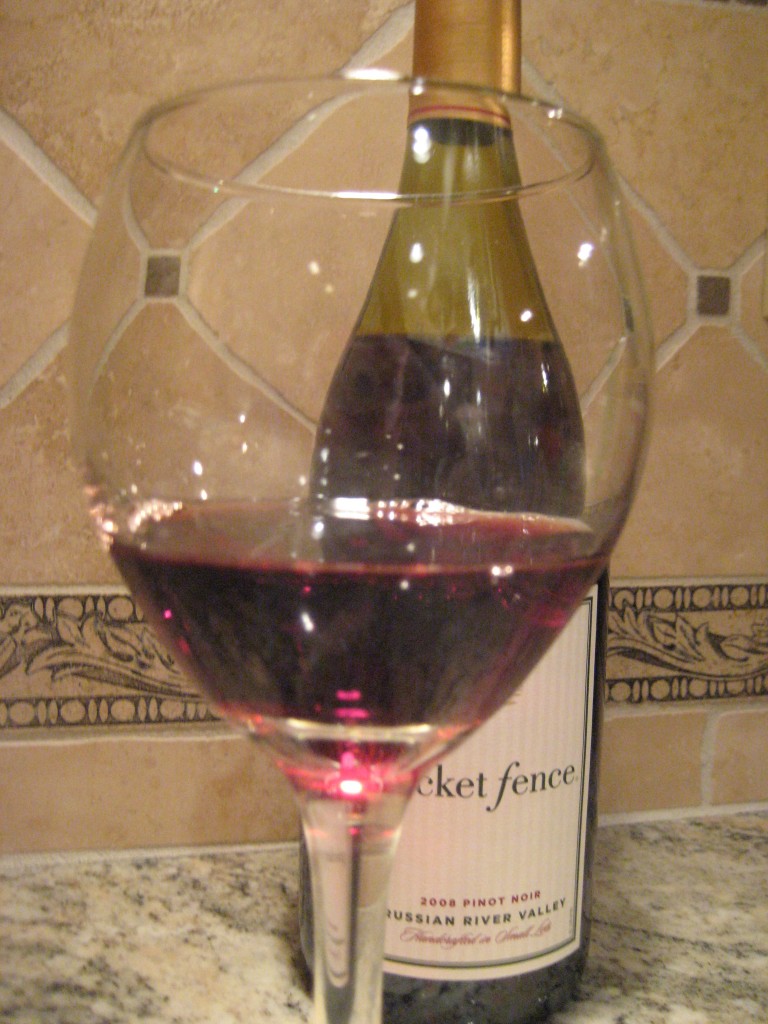 Sight: A light pink edge, with a fairly transparent purple body.  It's starting to turn brickish red though.
Smell: This wine has definitely seen some oak.  There's plenty of vanilla, smoke, cedar, and slight espresso and mocha notes all coming off the top.  Behind all the wood, there's a bit of fresh strawberry and raspberry.
Sip:  The acid is still remarkably firm for a wine of this age, and it makes it feel young.  The oak is still huge though.  The aging in barrel means that there are plenty of strawberry, currant, and raspberry flavors, but there's a definite background of smoke and cedar.
Savor:  The wine maintains a few characteristics of strawberry jam, but almost is completely overwhelmed with espresso, smoke, and vanilla.
Overall, 2008 Picket Fence Pinot Noir seems to have made its way around the oak room a bit.  It's not that this wine is skewed too far into oak, but the mouth feel is almost heavy with wood, and the flavor profile is usually associated with a bigger grape.  That being said, there are lots of nice fruit notes in this wine as well, and it could be a good Pinot Noir for fans of bigger red grapes like Cabernet Sauvignon or Malbec.
Verdict:  Barrel rolled.
Price: MSRP seems to be running toward the $14 range, but it might be possible to snag a bottle under $10.
Russian River Valley AVA, California.
http://www.picketfencewine.com/